Strasburg pitches rare gem in defeat
Strasburg pitches rare gem in defeat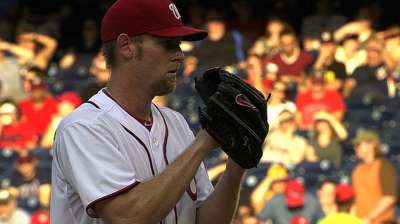 WASHINGTON -- Stephen Strasburg's outing on Wednesday night against the Pirates truly was a rarity. The right-hander took the loss despite holding Pittsburgh to one run on two hits in eight innings, striking out 12 without issuing a walk.
That gave him an 86 game score, a statistic devised by Bill James that measures the overall effectiveness of a start, adding points for positive outcomes and subtracting for negative ones.
Strasburg's game score was easily the highest of a losing pitcher this season, surpassing the 79 set by the Angels' Joe Blanton and the White Sox's Chris Sale. He is only the third pitcher since 2000 to post a game score of at least 86 in a loss, joining Pedro Martinez (2000) and James Shields ('12), and the ninth since 1980.
"We want to win," Strasburg said after falling to 5-8 this season despite his 2.85 ERA. "I don't really care about the whole wins and losses as a pitcher. We need to win some games. It's getting to the point where our back's against the wall, so we've got to do what it takes."
According to the Elias Sports Bureau, Strasburg is the first National League pitcher since 1900 to strike out at least 12, walk none and allow two or fewer hits in a loss.
It's not a totally new dynamic for Strasburg, whose .385 winning percentage is the lowest of any pitcher whose ERA is less than 3.00. In four of his last six starts, he has taken a loss or no-decision while going at least seven innings and allowing no more than two runs.
At times, Strasburg, who turned 25 on Saturday, has allowed frustration with poor defense or other factors to affect him on the mound, but he seems to be doing a better job keeping himself composed.
"He's still a young starter," manager Davey Johnson said on Thursday. "He's still learning about himself and about what he needs to do to maintain that high level of performance. Sometimes we can get overcritical of every little thing, under the microscope, what's going on. 'He didn't handle that too good.' Or, 'He didn't do that.' He's still young."
Although his team hasn't given him much help, Strasburg has been putting himself in better position to collect some victories by going deeper in games. Wednesday was the third start since May 16 that he has pitched eight innings, something he had never done before. He is averaging 6.2 innings per start this year, compared with 5.7 last season.
"You want to be the big dog in the rotation, that comes with the territory," Strasburg said. "The sixth inning isn't cool anymore for me. I want to go seven, eight and hopefully nine sometimes."
Andrew Simon is a reporter for MLB.com. Follow him on Twitter @HitTheCutoff. Tom Schad is an associate reporter for MLB.com. Follow him on Twitter @Tom_Schad. This story was not subject to the approval of Major League Baseball or its clubs.