Royals keep rolling with series victory over O's
Royals keep rolling with series victory over O's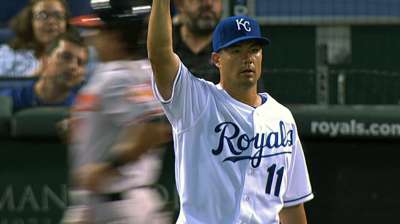 KANSAS CITY -- The Royals needed to come out strong after the All-Star break and they've done just that.
They added to an already impressive homestand on Thursday night with a 7-1 victory against the Orioles in front of 17,675 fans at Kauffman Stadium. Kansas City wrapped up a 5-2 stand with two series victories and climbed back to three games under .500.
After stumbling into the break with five straight losses, the Royals took two-of-three against the Tigers, who lead the American League Central, and three-of-four against the Orioles. The Royals also went 10-10 in their last 20 games played against five teams that are a combined 47 games over .500.
"I told a lot of people to ask me about the Royals over the break, how we were doing, where we were, and I said, 'we need to win five out of seven or we'll be in big trouble,'" Royals starter Jeremy Guthrie said. "I thought about that last night and said, 'OK, now I get the chance to help the team do that.' We need to continue to win series, but we did exactly what we needed to do in these first seven games. There's a lot more to go, but coming out of the break we looked at two really good teams that came into our place and did well against them."
Guthrie was sharp as he allowed only one run on six hits and a walk with five strikeouts in six innings. The right-hander (10-7) improved to 2-0 with a 1.50 ERA against his former club.
"Facing a former team, you knew he was going to be amped up and you knew he was going to be ready," designated hitter Billy Butler said. "He threw his game. That's the reason he got the win."
The Royals struck early and tallied six runs off Orioles starter Miguel Gonzalez, who entered riding a string of eight straight quality starts. The six runs allowed were a season high for Gonzalez. Butler also homered off Francisco Rodriguez -- making his first appearance out of the bullpen after being traded to the Orioles on Tuesday -- to extend the Royals' lead to 7-1 in the seventh.
"Adrenaline wasn't there," Gonzalez said. "It was tough the first couple innings, guys getting on. I was behind in the count. I was up for the most part and the split-finger fastball wasn't there tonight. All the other pitches were OK, but my fastball and my splitty weren't there and they were taking advantage of that. I thought Guthrie pitched a great game tonight."
Butler doubled with two outs in the first inning and scored on Salvador Perez's single to center field. Perez advanced on the throw and scored on David Lough's single to left field to give the Royals an early 2-0 lead.
Chris Getz hit a double to left field in the second inning and scored on Alex Gordon's sacrifice fly to make it 3-0.
Guthrie held the Orioles scoreless through the first four innings before giving up a triple to rookie Henry Urrutia, who scored the O's first run on an RBI double by Brian Roberts. Gordon limited the damage with a diving catch on Nate McLouth's hit to left field to end the inning.
The Royals countered with three runs in the bottom of the fifth following a leadoff single by Jarrod Dyson, who scored on Gordon's triple to right field. Eric Hosmer plated Gordon with a single that bounced past shortstop J.J. Hardy into left field. Gonzalez walked Butler and got Perez to ground into a double play before being lifted for Troy Patton, who gave up an RBI single to Lough on his second pitch.
Gordon entered the game mired in a 2-for-19 slump, but went 1-for-3 with the triple and two RBIs.
"He had a good night tonight, had two RBIs, had the big sac fly that I think tacked on the third run which was huge because we've struggled at times with that, so I felt really good when we picked up that run," manager Ned Yost said. "I felt really good when Hoz drove the ball past J.J. to pick up that run with a runner on third. To see Gordy hook the ball down the line with Dyson on, you know Dyson's scoring. Gordy at third gives you another opportunity and it kind of broke the game open for us there."
Butler capped the win with his ninth homer -- his first since July 9.
"It felt good," Butler said. "It's been few and far between for me this year, but that one felt good and I was glad I could get it on a night that was basically a good team win. Everyone contributed."
The first five Royals in the order combined for seven RBIs and seven of the team's 10 hits. Kansas City went 5-for-6 with runners in scoring position.
"We're clicking right now and we knew it would happen at some point," Butler said. "It took longer than we'd thought this year, but I feel like guys are getting comfortable and doing their job."
Kathleen Gier is an associate reporter for MLB.com. This story was not subject to the approval of Major League Baseball or its clubs.