O's tripped up in series finale against Royals
O's tripped up in series finale against Royals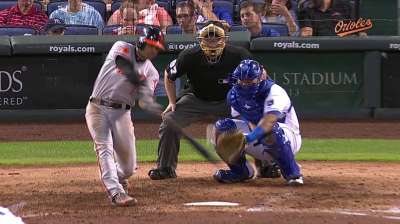 KANSAS CITY -- What a difference a few days can make.
The Orioles came storming out of the All-Star break, winning their first four games in such dominant fashion that it was as if they would never lose again. But the club that swept a three-game set in Texas and took Monday's series opener in Kansas City -- outscoring opponents 23-9 and pitching to a 1.86 starting ERA -- heads back to Baltimore with an entirely different feel.
The Orioles dropped their third consecutive game to the Royals on Thursday night, a 7-1 loss that featured an ugly combination of disputed calls, hard-hit balls that didn't find holes and one of Miguel Gonzalez's worst starting performances since joining the rotation last year.
And as incredible as the seven-game road trip started, this was not the way the Orioles wanted to end it, as they fell to 57-46. Third-place Baltimore, which went 4-3 on the trip, will square off with the American League East-leading Red Sox on Friday night, with a rested Boston (61-42) club coming off Thursday's rainout.
"There's nothing we can do about it now," Nick Markakis said. "It's behind us. We've had stretches like this in the past. Every team goes through it. It's a matter of putting it behind us. We have three important games going home against a team in our division and that's ultimately what we play for. We've got to beat those guys to have a chance to go where we want to go."
The Orioles' recent play hasn't helped their postseason aspirations and Thursday was no different with the Nos. 1-5 hitters going 2-for-19 with seven strikeouts.
Meanwhile, Gonzalez snapped a stretch of eight consecutive quality starts, turning in the second-shortest outing of his career in a season-low 4 2/3 innings. The 29-year-old righty, who had worked six or more innings in 26 of 32 career starts coming in, struggled from the get-go as the Royals scored just 11 pitches into the contest.
"Adrenaline wasn't there," Gonzalez said. "It was tough the first couple innings, guys getting on. I was behind in the count. I was up for the most part and the split-finger fastball wasn't there tonight. All the other pitches were OK, but my fastball and my splitty weren't there and they were taking advantage of that."
Kansas City quickly turned that into a three-run lead and Gonzalez exited the disappointing 68-pitch outing after a double-play ball from Salvador Perez in the fifth. Gonzalez surrendered a season-high six earned runs on eight hits and a walk, matching the number of runs allowed over his previous four starts combined in a 26-inning stretch.
"Miggy spoiled us at a high level and will again," Orioles manager Buck Showalter said. "Just didn't seem to get into a normal rhythm with some things."
The lineup looked equally out of sync, as a lethargic offense watched several good defensive plays and a questionable call in the fifth inning help former teammate and Royals starter Jeremy Guthrie improve to 2-0 with a 1.50 ERA against the O's.
The Orioles put a pair of runners on in the second courtesy of Adam Jones' leadoff walk and a one-out single from red-hot Matt Wieters. J.J. Hardy belted a line drive, but Royals shortstop Alcides Escobar was able to corral it and Guthrie struck out rookie Henry Urrutia to keep the O's scoreless.
Kansas City's defense cost the Orioles another run in the fifth inning on a questionable inning-ending call. After Brian Roberts doubled in Urrutia, who tripled, Nate McLouth sent a fading liner into left field which Alex Gordon dove for and corralled.
"It hit my glove, and when that happens, you kind of just see the ball," Gordon said. "I came up and showed [the ball to third-base umpire Bill Miller]. So, I thought I caught it."
The ball, which replays seemed to show hit the ground first, was ruled to be a catch despite Showalter's on-field protest.
"You can talk about 10 other things you would have done to not make it matter," Showalter said of the call possibly shifting the game's momentum. "It's always been that way until they get the replay down, to get those things right in the future. That's part of it ... that's far from what the game was about."
Baltimore went 1-for-6 with runners in scoring position and is 1-for-17 with 17 stranded over its last three games. Reliever Francisco Rodriguez allowed the Royals to extend the lead to six on Billy Butler's seventh-inning homer in his Orioles debut.
"Yeah it's heartbreaking," Gonzalez said of the recent slide. "You never want to go home with three losses in a row, but we are pretty confident about our pitching and we are going to shake it off and win some ballgames. ... We are going to play tough no matter what. Our team has been doing great the whole year. This is just three games."
Added Markakis: "Could we have won a couple more? Yeah. But that's baseball. Anybody can win on any given day. That's tough but we look at it a positive way. We came out 4-3 on the road trip, above .500, and we'll take that."
Brittany Ghiroli is a reporter for MLB.com. Read her blog, Britt's Bird Watch, and follow her on Twitter @britt_ghiroli. This story was not subject to the approval of Major League Baseball or its clubs.