Giants' offense again struggles against Reds
Giants' offense again struggles against Reds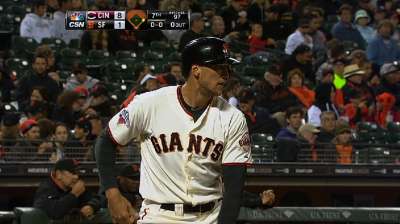 SAN FRANCISCO -- The Reds mercifully packed up and left AT&T Park for the season late Wednesday night, but not before they tormented the Giants just one more time.
Cincinnati's 8-3 win marked its sixth in seven games against San Francisco in 2013. In the seven games against their 2012 National League Division Series counterpart, the Reds outscored the Giants 45-14. Their 55 hits, 15 doubles and 22 extra-base hits this week were all series records at AT&T Park.
"I wish I could explain [the struggles against the Reds]," Giants manager Bruce Bochy said. "We just couldn't get a timely hit."
With the bases loaded and two outs in the fourth inning, Pablo Sandoval popped out on Reds starter Mike Leake's first pitch. Including the postseason, Sandoval entered the game 8-for-12 lifetime against Leake with two doubles, two home runs and three RBIs, but recorded outs in all three at-bats with runners on base against Leake. He knocked home two runs off the Reds bullpen, but not before Cincinnati's lead climbed to 8-1.
The popout symbolized the Giants' offensive fortunes the entire game. They encountered no issues reaching base, but they just couldn't bring many runners home. San Francisco stranded 15 and went 4-for-16 with runners in scoring position as it was unable to put a dent in the Reds' early lead. Fourteen of the Giants' 15 hits were singles, and they were outhomered by the Reds 6-0 in the series.
"We squandered too many opportunities out there," Bochy said. "It doesn't matter how many hits, it's how you get them sometimes."
At 46-55 and a season-high 7 1/2 games back of the first-place Dodgers with just a week to go before the July 31 Trade Deadline, Bochy said the club must play better this weekend against the Cubs.
"[General manager Brian Sabean] and I talk every day. I don't get too caught up in what might happen," Bochy said. "I don't want to get distracted.
"This is our ballclub right now. We have to do what's right and that's what we will do."
Hunter Pence's 5-for-5 night -- his second career five-hit game and first since May 27, 2008, with the Astros -- was one of the few bright spots in another Giants loss.
Starter Chad Gaudin's struggles didn't help matters. He allowed more than four runs for the first time as a starter. In his first seven outings since joining the rotation in early June, he developed into one of San Francisco's most reliable pitchers. On Wednesday, he walked five batters and surrendered seven hits and six runs in a brief 3 2/3-inning outing.
"I didn't command the fastball tonight and didn't get ahead of hitters," Gaudin said. "They're good hitters and they have a tough lineup you have to get around."
His outfield didn't do him any favors in the third inning. With two outs and Joey Votto on first base, Brandon Phillips rifled a single that rolled past Pence, who was charging toward center, and under the glove of Gregor Blanco. The error -- charged to Pence -- allowed Votto to score and Phillips to reach second base. A play later, Jay Bruce doubled into the right-field corner and Phillips scored to make it 3-0. Bruce would later score on Devin Mesoraco's single.
"Chad's been so good for us, but it was a rough outing for him and a couple plays we couldn't make didn't help," Bochy said.
"They pretty much had their way with us and they're good. They did some damage, too. We're playing a club [the Cubs] next that's been playing pretty good, too."
Even Leake recorded three of the club's 13 hits, while all nine Cincinnati starters reached base. On the mound, he finished with the odd stat line of six-plus innings and 12 hits, but just one run allowed.
"They're still a tough team," Leake said. "Whether we've beaten them six times, they're still a good ballteam and you're going to battle every time against them. That's the style of game they play and you never count them out."
San Francisco's starting pitching issues were an ugly trend during these clubs' seven games. Only once did a San Francisco starter record an out after the fifth inning, and it came from Tim Lincecum on the night of Homer Bailey's no-hitter.
Andrew Owens is an associate reporter for MLB.com. Follow him on Twitter @OwensAndrew. This story was not subject to the approval of Major League Baseball or its clubs.