Overzealous hitting delays Hanigan's return
Overzealous hitting delays Hanigan's return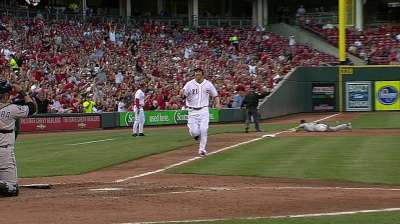 SAN FRANCISCO -- Catcher Ryan Hanigan has experienced a setback in his recovery from an injured left wrist and will not be activated for the Reds' series opener against the Dodgers on Thursday as was previously expected.
"He's still a little sore," Reds athletic trainer Paul Lessard said before Wednesday's series finale vs. the Giants. "His exercises are all fine, but he overdid it a few days ago and he's still sore, so I backed off yesterday and today with some of his activities."
Hanigan had restrained from swinging a bat for a week so he could heal and appears to have overcompensated from the hiatus by taking extra swings Sunday, though Hanigan's ability to catch is not in question.
"Tons of swings and tons of exercises," Lessard said of the exceeded strain on Hanigan's wrist. "He was feeling so good Sunday that he just kept [going]. He was bored during the game, he was in the cage and walking around the weight room and doing stuff. Monday after the flight Sunday night, he came in and was pretty sore."
Hanigan has been on the disabled list since July 11 and is eligible for activation Thursday.
"I'm pretty sure we're not going to activate him tomorrow," Lessard said. "Whether it's the day after or the day after that, I don't know. It won't be tomorrow."
Jeff Kirshman is an associate reporter for MLB.com. This story was not subject to the approval of Major League Baseball or its clubs.