Cozart out of lineup with left hip stiffness
Cozart out of lineup with left hip stiffness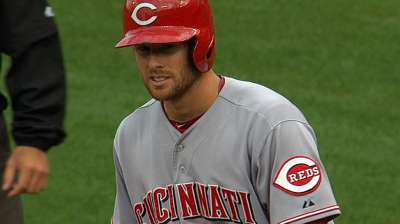 SAN FRANCISCO -- Zack Cozart didn't start in Wednesday's series finale against the Giants but was available to pinch-hit after experiencing stiffness in his left hip.
Cincinnati's shortstop felt pain prior to Game 1 of Tuesday's doubleheader in San Francisco and was monitored after every inning before manager Dusty Baker pulled him for Cesar Izturis in the seventh inning with Cincinnati leading, 9-2, and he struck out as a pinch-hitter in the nightcap. Cozart matched a career high with four hits, including a home run, two RBIs and three runs prior to the substitution, which athletic trainer Paul Lessard said prolonged his removal from the game.
Lessard added that the hip ailment may be a result of an attempt to relieve pressure on his left leg, which has been black and blue for a week because of everyday wear and tear.
"He's not bad, it's just if we want him to play the next two days, it's in our best interest to get him ready," Baker said. "It's that time of the year where you're going to be dealing with something. If you're not dealing with something, you haven't played much or you don't exert effort."
Cozart is batting .243/.270/.379 this season with eight home runs and 36 RBIs.
Jeff Kirshman is an associate reporter for MLB.com. This story was not subject to the approval of Major League Baseball or its clubs.