Vogelsong happy with initial rehab start
Vogelsong happy with initial rehab start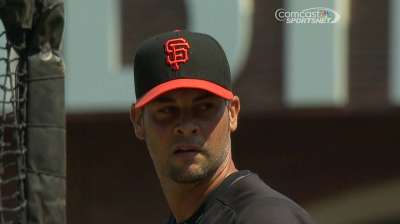 SAN FRANCISCO -- Ryan Vogelsong pitched two innings in the first outing of his rehab assignment Tuesday with the Giants' Arizona League club and said he was pleased with the results.
Vogelsong threw 34 pitches, 10 of which came in the second inning. He said, "It's been a while since I've had one of those."
"The second inning was definitely better than the first," he said.
He used his full arsenal of pitches and will start in Stockton on Friday with Class A San Jose. Giants manager Bruce Bochy said Vogelsong is expected to throw 40 to 45 pitches in the outing.
"He threw well," Bochy said. "He felt good about how he threw. That's a nice step to coming back here."
Bochy added that Vogelsong will return to San Francisco after Friday's start and will travel with the team to the White House on Monday prior to the club's three-game series in Philadelphia. He will then continue his rehab assignment with nearby Double-A Richmond.
Andrew Owens is an associate reporter for MLB.com. Follow him on Twitter @OwensAndrew. This story was not subject to the approval of Major League Baseball or its clubs.