Lohse frustrates Padres' bid to take series
Lohse frustrates Padres' bid to take series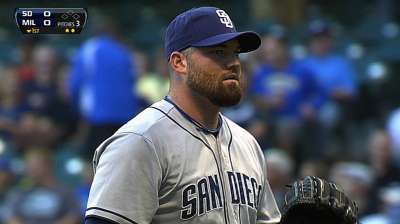 MILWAUKEE -- When you get right down to it, there were a scant few things for Padres pitcher Sean O'Sullivan to really nitpick over in terms of his start Wednesday against the Brewers.
In his second start for his hometown team, O'Sullivan allowed two earned runs over 6 1/3 innings, but a walk early in the game came into play during the Brewers' 3-1 victory over the Padres in front of a crowd of 25,551 at Miller Park.
"I think I was too careful with a few guys," said O'Sullivan, who walked three.
The fact is, though, it might not have mattered much with the way Brewers starter Kyle Lohse was pitching.
Lohse (7-7) allowed one run on five hits in seven innings with six strikeouts and set down 14 of 15 hitters in one stretch as the Brewers (42-58) won after dropping the first two games of his four-game series that concludes Thursday.
"He was good; he had a really good slider," said Padres second baseman Jedd Gyorko, who had a second-inning single before Lohse settled into a groove.
"We got a hit here and there, but when you have the command like he had tonight ... it's going to be tough."
One of those hits Wednesday was a big one, as Nick Hundley started the third inning with a home run to left field, his eighth of the season. It was also his second home run in as many days.
"It's good to see some of his swings result in damage," manager Bud Black said.
The rest of the damage, though, was inflicted by Lohse with an assist to center fielder Carlos Gomez, who had four hits in the game, including a two-run rocket of a double off O'Sullivan in the bottom of the third inning.
"He did a good job working both sides of the plate and did a great job of changing speed," Black said of Lohse. "He's been pitching well. We battled him."
O'Sullivan, who is in the rotation for the foreseeable future after Jason Marquis was lost for the rest of the season with a serious elbow injury, got in trouble with walks.
"I have been so good all year with balls in the strike zone," O'Sullivan said. "It's [walks] been very uncharacteristic of me. I'm not a big strikeout guy. Putting guys on base is not part of my game."
O'Sullivan (0-2) walked Jonathan Lucroy to start the second inning. Lucroy then raced to third base when Gomez doubled. But O'Sullivan pitched out of the jam by getting the next three hitters out.
He was not as fortunate in the third inning.
O'Sullivan allowed singles to Rickie Weeks and Norichika Aoki to begin the inning. He was able to strike out Jean Segura, but then issued another walk to Lucroy. That was when Gomez lined a double to straight away center field for a 2-1 lead.
"He's got a little bit of a bulldog in him," Black said of O'Sullivan. "He changed speeds, and he kept the ball down. We just couldn't get any runs for him."
All told, O'Sullivan allowed the two earned runs on seven hits and four strikeouts.
Despite their offensive struggles, the Padres (45-57) kept the game close. The Brewers got an unearned run in the seventh inning when, with runners on the corners, reliever Dale Thayer fired the ball to the third baseman, Chase Headley, who then threw the ball toward second base with the hope of getting the trailing runner.
But the ball hit second-base umpire Bob Davidson in the lower back as the ball trickled into shallow center field. Aoki, who was hit by a pitch to start the inning, raced home.
"We executed the play, but unfortunately for us, Bob was in the way of a thrown ball," Black said, adding "that's the last thing he wanted. He just didn't get out of the way. That's a unique play."
But the story of the game was the way Lohse handcuffed the Padres.
"I thought early on his command was better," Brewers manager Ron Roenicke said. "Usually it takes him an inning to kind of get the command going. I thought it was good from the get-go. I know he threw a lot of pitches to a couple guys. He could have easily got to the eighth inning, but they kept battling, and the pitch count got up there."
Corey Brock is a reporter for MLB.com. Keep track of @FollowThePadres on Twitter. This story was not subject to the approval of Major League Baseball or its clubs.