Posey gets rest after playing doubleheader
Posey gets rest after playing doubleheader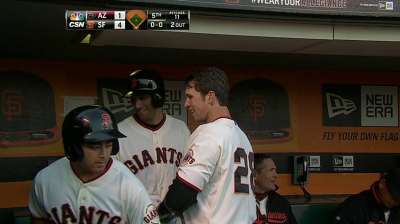 SAN FRANCISCO -- Giants catcher Buster Posey was left out of the starting lineup by manager Bruce Bochy on Wednesday after playing in both games of Tuesday's doubleheader.
Both Posey and Bochy said the day off was not related to an injury. Posey experienced a nasty foul tip off his catcher's mask in Game 2 on Tuesday, but he said it didn't bother him.
"We think he could use a break and get some rest," Bochy said. "With [Thursday] off, it gives him a couple days off. I think it's important he gets a day.
"He's just been playing a lot. He played both yesterday. With a catcher, I like to find a time to give two days off."
Posey has appeared in 79 games as a catcher and 16 as a first baseman in 2013. After starting at first base in Game 1 on Tuesday, he played behind the plate in Game 2. Counting his two games at designated hitter, Posey has appeared in 97 of the Giants' 100 games this season and is making a case for a second consecutive National League Most Valuable Player Award.
Andrew Owens is an associate reporter for MLB.com. Follow him on Twitter @OwensAndrew. This story was not subject to the approval of Major League Baseball or its clubs.