Gomez backs Lohse as Brewers halt Padres
Gomez backs Lohse as Brewers halt Padres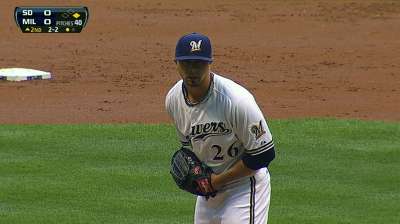 MILWAUKEE -- Kyle Lohse signed with the Brewers this offseason with hopes of joining a contender. With 62 games to play, the Brewers' season has crumbled around him with injuries, inconsistent play and -- most recently -- Ryan Braun's suspension.
But Lohse has stood firm through it all. On Wednesday, the right-hander remained standing with a seven-inning gem to help deliver the Brewers a 3-1 win over the Padres during a week they so desperately needed it.
"We needed a little bit of good news after this last week," Lohse said. "It's been tough, but we just have to keep going. Nobody's going to feel sorry for us, so we just have to do our jobs, and tonight it was a good thing that we came home with a win."
Lohse limited the Padres to five hits in seven innings, allowing one earned run while striking out six and walking none. He finished after seven because of a few lengthy at-bats and finished with a season-high 112 pitches -- 74 for strikes.
Lohse improved to 7-7, evening his record for the first time since late April, and registered his team-leading 13th quality start. He lowered his ERA to 3.37, and over his last 11 starts he is 6-1 with a 2.49 ERA.
In a week the Brewers lost their best player to suspension, traded their closer and dropped the first two games of a four-game set with the last-place Padres, Lohse remained a constant.
"It's not hard to go out there and do your job; that's part of being a professional," he said. "Obviously, things haven't turned out the way I thought or anyone in here thought. Injuries have played a big role, and obviously, the stuff that's happened -- the last little bit -- has been big.
"Nothing against the guys that we're running out there, but it's not the lineup that you envisioned early in the season. You can take a positive out of it that these guys are getting some experience that can pay off down the road. We've still got two months in the season, and I think we can still go out there and play some good games. I've never been exactly in this position, but we play a lot of teams that are in the playoff hunt so maybe we can ruin their year, too."
If they are going to make good on that, Lohse will need to be right in the middle of it. On Wednesday, he gave up a third-inning solo home run to Nick Hundley to put the Padres up, 1-0, but he responded by retiring 15 of the final 17 batters he faced.
"He was good; he had a really good slider," Padres second baseman Jedd Gyorko said. "We got a hit here and there, but when you have the command like he had tonight, it's going to be tough."
Brewers manager Ron Roenicke thought Lohse kept the pace of the game, which finished in two hours, 50 minutes, in his favor.
"Kyle throws the ball, he gets back on the mound and he's ready to go again," Roenicke said. "The defense is going to play better behind him, he's throwing strikes, everything positive happens when you throw that way."
If the Brewers were not missing Braun, Aramis Ramirez and Corey Hart in the middle of their lineup, Roenicke says things may have been even better this year for Lohse.
"It was hard to say what [Lohse's record] should have been," Roenicke said. "If we're really swinging the bat well, it's hard to say. But he's really pitched well."
The offense did just enough Wednesday to cover up for some early missed opportunities. Carlos Gomez finished 4-for-4 with two doubles, including a two-run double off San Diego starter Sean O'Sullivan, putting the Brewers up by 2-1 in the bottom of the third inning.
Rickie Weeks and Norichika Aoki, who were in the Nos. 1-2 spots of Roenicke's latest lineup, led off with singles. After a Jean Segura strikeout, Jonathan Lucroy loaded the bases with a walk, setting up Gomez's second double in as many innings, a two-run liner over the head of Will Venable in center field.
Gomez has been battling thumb injuries on each hand, but he broke out of a 3-for-42 slump with his big day.
"First of all, it feels better when you do something to win a game like what happened today," Gomez said. "Personally it's no big change between yesterday and today, but I got lucky with two infield hits. That's why baseball is so tough. It takes me [42] at-bats, and I get three hits. Today, I go 4-for-4. Every day is another day."
The Brewers spoiled a few chances to pad Lohse's lead, however, stranding runners at second and third with nobody out in both the second inning and, after Gomez's one-out double, the third inning.
Juan Francisco -- mired in a 2-for-28 slump -- contributed toward stranding seven runners, stepping to the plate with runners on second and third and nobody out in the second inning and again with one out in the third. He also grounded out to end the fifth inning with runners on first and third.
The Brewers and Francisco caught a break in the seventh inning, though, when he stepped to the plate with two outs and runners on first and third against Padres reliever Dale Thayer. Gomez took off from first when the left-handed Thayer made a pickoff throw to third base. Third baseman Chase Headley then threw to second, but the ball caromed off second-base umpire Bob Davidson and into shallow center field, scoring Aoki from third to put the Brewers up, 3-1.
"I didn't even know that's what happened," Roenicke said. "Wow, I didn't know that. I couldn't figure out how the ball ended up where it did."
Francisco then struck out to leave Gomez at third, but that was all offense the Brewers would need.
John Axford and Jim Henderson, who Roenicke said could each get a shot at closing after Tuesday's trade that sent Francisco Rodriguez to the Orioles, closed the door in the eighth and ninth innings.
Henderson closed for much of the first half of the season and picked up his 11th save with a scoreless ninth Wednesday.
Kevin Massoth is an associate reporter for MLB.com. This story was not subject to the approval of Major League Baseball or its clubs.