Francoeur getting chances against right-handers
Francoeur getting chances against right-handers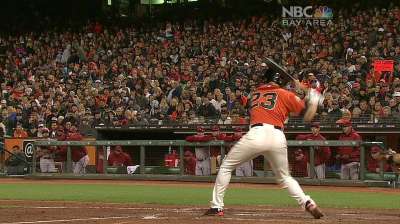 SAN FRANCISCO -- Jeff Francoeur is no longer the hitter that burst onto the scene with eight home runs in 23 games as a rookie in 2005, but the Giants want to see just how much the 29-year-old can aid a San Francisco lineup desperate for a lift.
Giants manager Bruce Bochy has mostly used Francoeur in a left-field platoon role with Kensuke Tanaka since he joined the club, but Wednesday he was penciled into the lineup against right-handers on consecutive days for the first time with the organization.
Francoeur did not reach base in four at-bats against right-handers Greg Reynolds and Curtis Partch on Tuesday night. He did, however, pound a slider from right-hander Bronson Arroyo to deep center field Monday and was robbed of a home run on a spectacular play by Reds outfielder Derrick Robinson.
"He's a proven Major League hitter and this offense needs some help," Bochy said. "It's a good time to throw him out there."
Francoeur is 4-for-18 with an RBI in seven games with the Giants. Known as a free swinger, he has been noticeably more patient with San Francisco. In the small sample size, he's seen four pitches per plate appearance, which is better than his career mark of 3.5.
In an example of his improved plate discipline, he fell behind Reds starter Tony Cingrani 1-2 in Game 1 on Tuesday, but shortened his swing to foul off a couple of pitches before fisting an inside fastball to right field for a single.
"He's been turning out some pretty good at-bats," Bochy said. "You want to get him settled in and getting enough at-bats."
Andrew Owens is an associate reporter for MLB.com. Follow him on Twitter @OwensAndrew. This story was not subject to the approval of Major League Baseball or its clubs.