Petit impresses with bullpen-saving outing
Petit impresses with bullpen-saving outing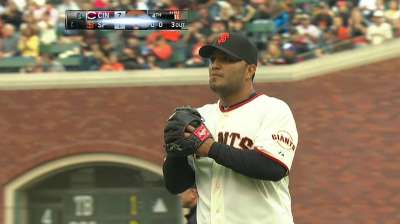 SAN FRANCISCO -- He didn't throw a pitch in the 5-3 win in Game 2 of Tuesday's doubleheader, but Giants reliever Yusmeiro Petit certainly had a hand in the San Francisco victory.
After starter Eric Surkamp lasted only 2 2/3 innings in Game 1, Petit came on and delivered 5 1/3 strong innings for manager Bruce Bochy and saved the bullpen from an arduous afternoon game ahead of the nightcap.
Due to Petit's performance, Bochy could turn to five fresh relievers to sustain a 5-3 lead and beat the Reds for the first time in six games this season. Bochy said the contribution did not go unnoticed.
"If he goes out on three days' rest and pitches like that, sure, it [helps]," said Bochy, who complimented Petit's ability to hold runners as well.
Since Chad Gaudin -- the Giants' long reliever at the beginning of the season -- replaced Ryan Vogelsong in the rotation in May, San Francisco has not had a traditional long reliever, but Bochy said Petit has the potential to fill that role.
"We've talked for two or three years about how valuable a long [relief] guy can be," Bochy said. "We've been fortunate since 2009 ... with starters making their starts and going long in the game when we don't need a long guy."
Petit made one start for the Giants in 2012 and has appeared in parts of four previous seasons with the Marlins and D-backs.
Andrew Owens is an associate reporter for MLB.com. Follow him on Twitter @OwensAndrew. This story was not subject to the approval of Major League Baseball or its clubs.