Eaton hopes big game acts as springboard
Eaton hopes big game acts as springboard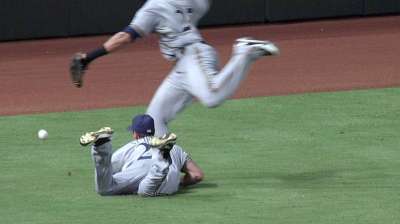 PHOENIX -- Frustrated with his slow start to the season after missing the first three months with an elbow injury, D-backs outfielder Adam Eaton decided it was time Tuesday to shake things up.
First, the 24-year-old debuted a thick mustache. Then, after grounding out in his first at-bat, Eaton turned to three young boys seated behind the on-deck circle to rub his bat for good luck.
The end result? Eaton, who entered the game hitting .185, reached base the final four times he stepped to the plate, scoring three runs, including the go-ahead run with the score tied at 1.
"There's no thinking behind it;, we're all head cases," Eaton said of his superstitious behavior. "It's nice to be serious, but you realize it's just a game."
Once the D-backs recorded the final out in their 10-4 victory, Eaton went over to the children and handed them a couple of bats and batting gloves to thank them for helping him out.
"The boys were having a good time with it, and it worked out well," he said. "Whenever I came up, they'd be grinning ear to ear. That made it fun for me. We're just kids playing this game, so being able to relate to them was fun."
Eaton hopes his big night will be a springboard for the remainder of the season, which began with sky-high expectations and even some National League Rookie of the Year talk before he was hurt in Spring Training.
"Hopefully I can get going a little bit now," he said. "It's good to get a little confidence. Any player in here will tell you that it's tough to come off the disabled list when you haven't hit big league pitching in three months and to pick up right where you left off is pretty difficult."
The D-backs know what a hot-hitting Eaton can do for them as well. The club has used Gerardo Parra in the leadoff spot for the majority of the season, but Eaton is a more natural fit.
"Everybody has seen what he can do, he puts the pressure on people, he adds a different element to how we can manufacture runs," D-backs manager Kirk Gibson said. "He's going to start some crap with other teams, they aren't going to like how he does things, but that adds an edge to us. I like it. He's a good player in all facets."
Tyler Emerick is an associate reporter for MLB.com. This story was not subject to the approval of Major League Baseball or its clubs.