Schierholtz's fifth RBI lifts Cubs in 12th inning
Schierholtz's fifth RBI lifts Cubs in 12th inning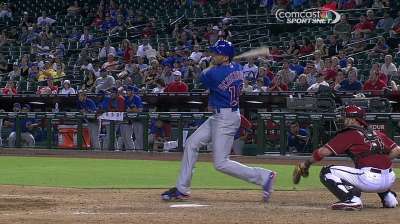 PHOENIX -- Nate Schierholtz has been the Cubs most consistent hitter with runners on base for most of the season, and he came through at the right time on Wednesday night.
Schierholtz drove in a career-high five runs, hitting a three-run homer in the fifth and a game-winning RBI double in the 12th, to lift the Cubs to a 7-6 victory over the Arizona Diamondbacks, who are trying to keep pace with the Dodgers in the National League West.
Schierholtz was shut down for the Cubs' final two games before the All-Star break because of nagging injuries, and admitted Wednesday that the rest helped.
"I'm feeling a lot better now," Schierholtz said. "The All-Star break definitely helped, and so did the cortisone shot. I feel like I'm doing well now, and I'm trying to help the team."
With two outs and the game tied at 6 against David Hernandez in the 12th, Anthony Rizzo walked to set up Schierholtz's double into the left-field corner. Schierholtz's previous high was three RBIs, done four times, most recently April 23, 2012, against the Mets.
Rizzo and rookie Junior Lake each hit RBI doubles for the Cubs, now 7-3 in extra-inning games this season. Chicago had only reliever Michael Bowden in the bullpen by the 12th.
"We were going to have to have the re-entry rule," Cubs manager Dale Sveum jokingly said.
Jeff Samardzija scattered six hits over 5 2/3 innings, throwing a season-high 118 pitches. Arizona had two on and two outs in the sixth when he was pulled, and Paul Goldschmidt greeted Blake Parker with a three-run homer, his 22nd, to cut the Cubs' lead to 6-5. Goldschmidt, by the way, was 0-for-6 against Samardzija, with six strikeouts.
"I know the numbers," Sveum said. "It was too many pitches at that time. I just wanted a fresh arm with a breaking ball, and obviously, 'Park' made a horrible pitch with his fastball."
Samardzija had to work. The D-backs loaded the bases in the first, fourth and fifth innings, finally breaking through with two runs on second baseman Darwin Barney's error in the fifth, as Martin Prado's grounder up the middle appeared to graze off the second-base bag and skip between Barney's legs.
"It was a good battle there," Samardzija said. "You just can't walk five guys. It burns up your pitch count."
"We left a zillion guys on," Arizona manager Kirk Gibson said, "and we didn't really swing at good pitches in those situations. That's the tough part about it. You have to give the Cubs credit, they made some good pitches on us, but I think we swung at some marginal pitches out of the zone, too."
Samardzija nearly wiped out Barney as they both chased Wil Nieves' grounder in the fourth. Fortunately for the 5-foot-10 Barney, the 6-foot-5 former Notre Dame football player didn't hurt him.
"I wanted that ball. I made a good pitch," Samardzija said. "I wanted to get that out. I know Barney's an aggressive second baseman and he covers a lot of ground, too. We kind of looked up at the same time and realized we were both going for it, and it was too late. It was pretty funny."
Gibson wouldn't expect anything less of Samardzija. Both he and the Cubs pitcher were All-American wide receivers in college.
"I know, coming from football, it's such a different world," said Gibson, who went to Michigan State. "The biggest change for me was the mental side of it. I think [Samardzija] is starting to understand the game and what he has to do. He's learned the finer parts of the game.
"He's always been extremely competitive, but when he first came up, he was just out of football and they put a lot on him," Gibson said. "The same thing happened to me. But I wouldn't have wanted it any other way, and so would he. It's still tough. So he's just becoming more seasoned. I like him as a pitcher and a competitor."
The Cubs gave Samardzija a 2-0 lead in the fourth. David DeJesus, activated from the disabled list Wednesday, doubled to lead off, moved up on Lake's sacrifice and scored on Rizzo's double. Rizzo then tallied on Schierholtz's single.
DeJesus reached on an error by second baseman Prado with two outs in the fifth and scored on Lake's second double of the game. Lake is now 14-for-27 in six games since being called up from Triple-A Iowa on Friday. Rizzo walked to set up Schierholtz's home run, his second in as many days. It's the first time he's homered in consecutive games since Aug. 14-15, 2011.
Any team looking for a left-handed bat and a solid defensive outfielder would be interested in Schierholtz before the Trade Deadline.
"It's out of our control what happens," Schierholtz said. "I love being a Cub, and hope to stay here. You never know what will happen in the next week. All we can do is go out there and focus on trying to win games."
The D-backs made it tough when they tied the game in the ninth against Kevin Gregg, who was vying for his 20th save. Goldschmidt walked and reached third on Eric Chavez's single. Prado flew out to right, but Goldschmidt didn't score. He did on pinch-hitter Cody Ross' sacrifice fly to left to tie the game. It was the 20th blown save by the Cubs' bullpen this season.
The D-backs stranded 16 in the game.
"We were very fortunate to come through a lot of that," Sveum said. "We hit some balls really hard and there were some diving catches that just missed. Goldschmidt's ball goes out by six inches, and [Luis] Valbuena's [in the eighth] stays in by six inches. It was a back and forth game and luckily our guys kept battling."
Carrie Muskat is a reporter for MLB.com. She writes a blog, Muskat Ramblings, and you can follow her on Twitter @CarrieMuskat. This story was not subject to the approval of Major League Baseball or its clubs.