Cardinals have trio among NL hitting leaders
Cardinals have trio among NL hitting leaders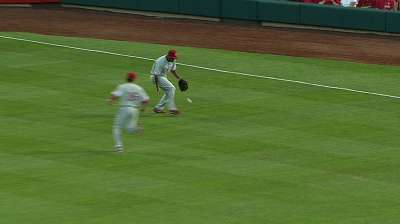 ST. LOUIS -- Three out of four of the National League's best hitters share a clubhouse.
With a 3-for-5 performance in Wednesday's 11-3 win over the Phillies, Yadier Molina remained atop the NL with a .339 average, followed closely by Allen Craig's .337 after he went 2-for-4. Teammate Matt Carpenter isn't far behind, raising his average to .326 after also going 2-for-4, good for fourth place. Colorado's Michael Cuddyer ranks No. 3 with a .328 mark.
"I think that's pretty cool that we have three of the top guys in the league in hitting and a bunch of guys on the team that are doing an awesome job, too," Craig said. "We have a really good thing going offensively as a collective group, and I feel like it's something where not one guy has to shoulder the load."
Since June 20, Craig is batting a Major League-best .421 (40-for-95), with hits in 24 of 26 games, while Carpenter leads all big league hitters with 40 multi-hit games. Craig and Molina are the first pair of Cardinals to hit over .330 through 97 games since Joe Torre (.353) and Lou Brock (.336) did it in 1971.
"I know I've said it a million times, but it's really a pass-the-baton type thing," Craig said. "Get a base hit, take a walk, just drive in one and let the next guy get a shot at driving you in. It's a really fun thing to be a part of."
Chad Thornburg is an associate reporter for MLB.com. This story was not subject to the approval of Major League Baseball or its clubs.