Angels claim former Royals reliever Gutierrez
Angels claim former Royals reliever Gutierrez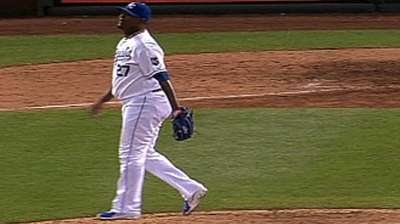 KANSAS CITY -- Reliever J.C. Gutierrez was claimed off waivers from the Royals on Wednesday by the Angels.
Gutierrez was designated for assignment on July 14 and the Royals had 10 days to trade him, release him or put him on waivers.
The right-hander, 30, pitched in 25 games for the Royals with a 3.38 ERA in 29 1/3 innings. He was dropped when pitcher Wade Davis came off paternity leave just before the All-Star break.
"He'll do fine," Royals manager Ned Yost said. "He did a good job for us, he'll do a good job for them."
Gutierrez was a closer for the Diamondbacks during the time that present Angels general manager Jerry Dipoto was a D-backs executive.
Dick Kaegel is a reporter for MLB.com. This story was not subject to the approval of Major League Baseball or its clubs.