De La Rosa's six scoreless lead Rox over Fish
De La Rosa's six scoreless lead Rox over Fish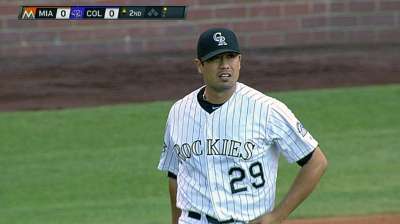 DENVER -- A couple of the most-debated strategies of 2013 worked when the Rockies needed them most with two outs and the bases loaded in the seventh inning on Wednesday night.
Right-hander Wilton Lopez, who was the biggest offseason acquisition, but who also has provided mixed results at best, worked the Marlins' powerful Giancarlo Stanton into a grounder to third baseman Nolan Arenado to end a threat that started with bases juiced with no outs.
The Rockies won, 2-1, at Coors Field in front of 30,900 to break a two-game losing streak and -- they hope -- start to add sunshine to what has been a dusky-to-dark homestand.
Colorado remains five games behind the National League West-leading Dodgers, and can earn a split of the four-game series with the Marlins, who are last in the NL East, but are displaying loads of young talent, with a win Thursday. The Rockies have split the first six games of a 10-game homestand.
"We needed the win," Rockies manager Walt Weiss said. "I won't go as far as to say 'must win.' We're still in July here. But, we needed the win tonight."
The way the Rockies handle their starting pitchers was put to the test -- severely -- in the seventh, and their method passed.
Left-hander Jorge De La Rosa shut out the Marlins for six innings on five hits and five strikeouts. After forcing grounders to third by Placido Polanco in the first and Adeiny Hechavarria in the second to end each inning with two on base, De La Rosa held the Marlins to two two-out singles, Hechavarria's in the fifth and Polanco's in the sixth.
But the Rockies, with a long history of pitching injuries and wear-downs to back them, didn't send De La Rosa out for the seventh because he had thrown 96 pitches. They want to keep pitchers below 100 whenever possible.
Weiss said he considered letting De La Rosa, who has gone six or more scoreless innings six times this season, go longer. But his chronic thumb bruise, which first surfaced on June 17 and has bothered him in most starts since, flared on a sacrifice bunt in the bottom of the fifth.
But the Rockies found out something about De La Rosa. In as big a game as they've played this season, with the offense in a month-long slump, De La Rosa was calm, confident and effective.
"We're pitching well, all five guys are pitching well," said De La Rosa, who said the thumb, which hampered him throughout June, will not be a problem for his next start. "Like I've said, I'm not worried about the offense. We have one of the best lineups in the league. Sooner or later, they're going to be very good."
Righty reliever Edgmer Escalona nearly undid the strategy in the seventh when he gave up hard singles to Donovan Solano and Jeff Mathis, and hit pinch-hitter Greg Dobbs with a pitch to load the bases. But Escalona struck out Hechavarria.
Lefty Josh Outman struck out Christian Yelich, but did not stay in for a left-on-right matchup with Stanton. Tuesday night's 4-2 loss to the Marlins featured Stanton clubbing an Outman pitch deep into the bleachers, and Stanton hadn't had a hit in seven previous at-bats against Lopez.
Lopez, obtained in a trade with the Astros for right-hander Alex White (who's out for the year due to right elbow surgery), has not been as effective as expected, and during the first half pitched himself out of important innings. But with the immediate morale of the club on the line, he broke Stanton's bat on a 1-0 sinker.
"You execute there, and you go into extras or you win that game," Stanton said. "None of us did. That's how you win games, that's how you mature as a team -- you get that done."
It was a welcome return of Lopez's ability to force a grounder. He broke in with the Astros in 2008 and forced 2.06 grounders per fly ball. For the next four years, his figure was never below 1.71. But going into Wednesday with the Rockies, the rate was 1.12.
"He even talked to me before," catcher Yorvit Torrealba said, referring to a mound meeting before the Stanton at-bat. "He said, 'I always pound inside, so I have a really good idea what I want to do.' It was huge.
"Not only did he get the big out, but the guy who was at the plate was the best hitter for them right now. He's been really inconsistent, but that big out today should get his confidence level really high. I hope he keeps doing it."
Rockies reliever Matt Belisle was hurt by shortstop Troy Tulowitzki's wild throw on a double-play attempt in the eighth. Solano drove in a run with a single and Mathis singled with two outs, but Belisle struck out struggling pinch-hitter Justin Ruggiano, whose slump extended to 0-for-31.
Rex Brothers earned his sixth save with a scoreless ninth, allowing only a walk to Stanton.
The Rockies entered the game having scored fewer runs than any team in baseball this month. But after Todd Helton doubled off Jacob Turner in the second, Nolan Arenado delivered an RBI single. Helton improved his doubles total to 579, 18th all-time.
Torrealba singled to open the fifth, moved on a De La Rosa sacrifice bunt and a Dexter Fowler single before DJ LeMahieu scored him on a sacrifice fly. Turner gave up two runs and six hits in six innings. Torrealba is backup to the younger Wilin Rosario, but playing him at Coors is a good idea. He is hitting .362 (21-of-58) in 23 home appearances.
"We didn't bang it around tonight, but we got enough to win," Weiss said.
Thomas Harding is a reporter for MLB.com. Read his blog, Hardball in the Rockies, and follow him on Twitter @harding_at_mlb. This story was not subject to the approval of Major League Baseball or its clubs.