Turner strong, but bats squander major opportunity
Turner strong, but bats squander major opportunity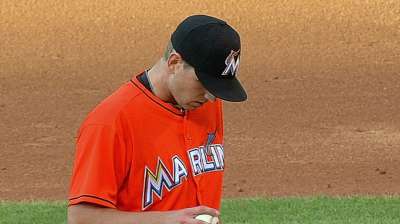 DENVER -- The bases loaded with no outs and their hottest hitter at the plate, it seemed inevitable that the Marlins would, at the very least, seriously threaten the Rockies' two-run lead. But the Rockies' bullpen weathered the storm, keeping Miami off the scoreboard in a 2-1 loss at Coors Field on Wednesday night.
Donovan Solano and Jeff Mathis started the seventh with back-to-back singles off reliever Edgmer Escalona, who hit pinch-hitter Greg Dobbs on the first pitch of the next at-bat. With the bases loaded for Adeiny Hechavarria, Escalona caught the shortstop looking at a fastball for strike three.
Christian Yelich -- the star of Tuesday night's win in his big league debut -- was next, but fared no better against left-hander Josh Outman, swinging at a 92-mph offering to prolong the frustration. Their hopes finally fell to Giancarlo Stanton, a slugger with a remarkable record of success at Coors Field. But Stanton swung at the second pitch he saw from Wilton Lopez and sent an easy groundout to third, allowing the Rockies to somehow escape with their two-run lead intact.
Rockies catcher Yorvit Torrealba said Lopez knew he needed to pitch Stanton inside, and his strategy thwarted a Marlins rally.
"That's the whole game right there," Stanton said. "You execute there and you go into extras or you win that game. None of us did. That's how you win games, that's how you mature as a team -- you get that done."
The importance of that opportunity was only magnified when Solano lifted an RBI single to right to score the Marlins' first run in the eighth.
Mathis followed with another single to put runners on first and second with two outs for pinch-hitter Justin Ruggiano, who entered without a hit in his last 30 at-bats. That slump continued, as Ruggiano struck out to prevent the Marlins from an eighth-inning comeback.
Manager Mike Redmond considered sending in Logan Morrison for the critical at-bat, but said Ruggiano's power made him the best option.
"[Ruggiano] had 12 homers, and I felt like right-on-right, that that was a better matchup in the situation."
Redmond said there was no single at-bat he could select as the most costly. In a situation where an infield groundout could score a run, anything but a strikeout would suffice.
"We just need contact," Redmond said. "We had three [runners on] and we're just looking for contact. They're giving us the run. Anything but a strikeout, really, and we got two strikeouts."
Just two games after the Marlins climbed from the worst offensive slump in franchise history -- 37 scoreless innings -- all 10 of Miami's hits were singles. The Marlins produce nothing more than five singles off Rockies starter Jorge De La Rosa, out-hitting the Rockies, but they were severely hindered by an inability to produce timely hits.
It was the first loss of the four-game series for Miami, which has dropped four of six in the second half after winning two straight in Denver.
Departing after the sixth, De La Rosa surrendered just five hits, struck out five and walked only one. It was De La Rosa's third straight victory and fourth in a row allowing two runs or fewer against the Marlins.
De La Rosa worked through a thumb injury that has plagued him for more than a month.
"He was great, and tonight I felt like he really dictated the at-bats," Rockies manager Walt Weiss said.
As dominant as De La Rosa was, Jacob Turner was nearly a good enough act as the equalizer. A Marlins rotation that has posted the third-lowest ERA since June 16 notched another strong start from Turner, who lasted six innings and allowed two runs on just six hits in his first career start against Colorado.
For the second straight night, Todd Helton interrupted a nearly flawless outing from a Marlins starter. Helton ripped a two-out double down the third-base line in the second and third baseman Nolan Arenado sent a line drive into shallow left to put the Marlins down, 1-0.
Turner's breaking pitches were ineffective -- a common issue when pitching at elevation -- and a few mistakes were enough to leave him with the loss despite posting his seventh quality start.
"[My mechanics] felt a little more sound," Turner said. "But there's still a few batters where I felt like I fell out of my mechanics a little bit. Other than that, I probably made a couple too many mistakes, especially in the second inning to Arenado. That slider was just a bad pitch."
The Rockies turned that into a 2-0 lead in the fifth when DJ LeMahieu's sacrifice fly scored catcher Torrealba from third. Torrealba smacked a leadoff single beyond the outstretched glove of Hechavarria and moved to third on a Dexter Fowler single.
The scoring chances began early for the Marlins, who had runners on first and third with two outs in the first before Placido Polanco grounded out to end the inning.
For Miami, Wednesday night proved the number of hits means little if the timing isn't right.
"Hits don't matter," Stanton said. "You got to have them when it counts. You could have 30 hits, you do it with runners on, you do it when it matters."
Ian McCue is an associate reporter for MLB.com. This story was not subject to the approval of Major League Baseball or its clubs.