Hamstring feeling good, Ramos playing more frequently
Hamstring feeling good, Ramos playing more frequently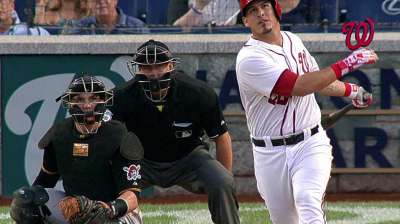 WASHINGTON -- Catcher Wilson Ramos spent two stints on the disabled list earlier this season with a left hamstring strain, missing 58 games. But on Wednesday, he was in the Nationals' starting lineup for the 13th time in 17 games since coming off the DL.
"It feels 100 percent right now," Ramos said of his hamstring. "I don't want to think about my hamstring. Try to clean my mind of that. Right now, I'm still doing my treatment, my exercises in the pool, I'm still doing everything."
Manager Davey Johnson said that Ramos will get the next two days off, including Thursday afternoon's game against the Pirates and the first game of Friday's doubleheader against the Mets. He said that he's been playing Ramos more regularly after trying to ease the catcher back when he first returned in late April.
"If you remember the last time he came off the DL, I went easy with him. [I played him] every other day for about five games, 10 days. And then when I went back-to-back with him, it blew up," Johnson said. "So when he came off this time, I've been playing him."
Ramos said that he's maintained a treatment and exercise regimen since returning July 4 and will continue that regimen throughout the season. He's also being more careful on the basepaths in an effort to prevent future hamstring problems.
"You have to be smart," Ramos said. "I know when I can run 100 percent, try to get a base hit, but it's not necessary with a routine ground ball to go 100 percent. For me right now, I'm trying to run hard, but if it's not necessary, then I won't do it because I don't want to get hurt."
Tom Schad is an associate reporter for MLB.com. Follow him on Twitter @Tom_Schad. This story was not subject to the approval of Major League Baseball or its clubs.