Belisario's turnaround matches team
Belisario's turnaround matches team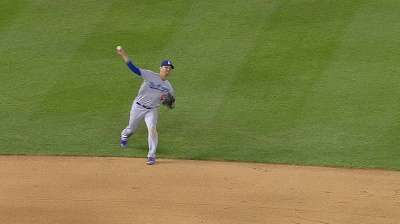 TORONTO -- As Ronald Belisario goes, so go the Dodgers?
When the Dodgers hit bottom June 22, falling 9 1/2 games out and in last place in the National League West, Belisario had an ERA of 4.64. While the club has made its run from worst to first, Belisario hasn't allowed an earned run over his last 13 appearances, his ERA down to 3.40.
He's struck out 13 in 13 innings with three walks and seven hits, while earning back the set-up job.
"When we've got guys in the middle of the order to go through, like [Jose] Bautista and [Edwin] Encarnacion, it's a good feeling having Beli out there," said manager Don Mattingly. "If he's going good, he's got that inning."
Mattingly said the difference in Belisario when he's good from when he's not is the movement of his pitches.
"All spring it was sideways," Mattingly said. "But Rick [Honeycutt, pitching coach] kept working with him. The velocity was always there, he was throwing hard but it was just sideways. Now it goes down and that's the difference. He threw two balls [Tuesday] night to Bautista that were just filthy."
Ken Gurnick is a reporter for MLB.com. This story was not subject to the approval of Major League Baseball or its clubs.