Phils designate Quintero, select Martinez's contract
Phils designate Quintero, select Martinez's contract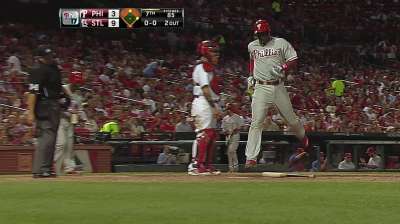 ST. LOUIS -- The Phillies designated catcher Humberto Quintero for assignment Wednesday, and selected the contract of Triple-A Lehigh Valley infielder Michael Martinez to take his place on the roster.
The Phillies said they planned to bring up Martinez, even before Domonic Brown had to miss at least two games because of concussion-like symptoms. Martinez gives the Phillies some flexibility in the outfield. He has played all three outfield positions.
Martinez contributed a pinch-hit RBI single in Wednesday's 11-3 loss to the Cardinals, but his .506 OPS in 360 career plate appearances heading into the game was the 17th lowest out of 3,074 non-pitchers with 350 or more career plate appearances since integration in 1947. Mario Mendoza, for whom the infamous Mendoza Line was named, is 18th with a .507 OPS.
Asked if he was surprised Martinez is the Phillies' best option in the Minor Leagues to help them in the outfield, Phillies manager Charlie Manuel said, "Am I surprised? I'm not surprised at [anything]. Nothing surprises me, if you want to know the truth. I would get surprised if you walked in here and told me I got Ted Williams. That would surprise me. I would go check on that. That would surprise me."
Williams' career OPS is 1.116.
Todd Zolecki is a reporter for MLB.com. This story was not subject to the approval of Major League Baseball or its clubs.