Jaso examined for concussion symptoms
Jaso examined for concussion symptoms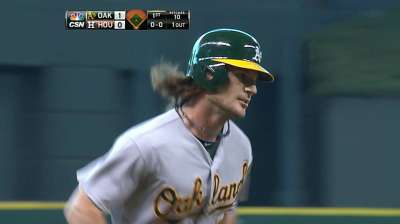 HOUSTON -- A's catcher John Jaso has taken a foul ball to his face mask twice in as many days, leading to doctor visits on both occasions to check for concussion symptoms.
Following Wednesday's 4-3 win in Houston, which he departed after seven innings, Jaso underwent a series of vision tests, which came back normal. However, he still felt dizzy, making his availability for upcoming games uncertain.
Jaso, at least, should be able to rest Thursday, with a lefty in C.J. Wilson throwing for the Angels and Derek Norris likely drawing the start at catcher.
"My brain might like the rest, but at the same time I want to play," Jaso said before boarding the team charter. "I feel good right now. I feel like I'm working really good at-bats, so it's definitely not a time I'd want to rest or whatever. A lot of it will have to do with the trainer and what he feels is best."
Jaso went 2-for-3 with a home run, a double and a walk on Wednesday, before a foul ball drilled his mask in the seventh. On Tuesday, the same happened in the sixth.
"He was cleared and good for the game, and once he took another one, he told me he had a little headache and that was it," manager Bob Melvin said. "You can't chance that."
Jaso is very familiar with concussion tests, having undergone them in the Minors when he was diagnosed with one.
"It's definitely nothing new to me, it just gets a little scary sometimes," he said. "Like yesterday after I got hit, I was kind of fearing the pitch he was going to throw after that. I had to call time, because I didn't know whether I was going to see the pitch or not. I don't want to hurt the team at the same time. I know, blocking balls, I want to be on top of that in one-run ballgames. I don't want to let pride get in the way of that.
"We're going to have to see how things go. I've got some head problems right now. I don't like making a habit of this."
Jane Lee is a reporter for MLB.com. Read her blog, Major Lee-ague, and follow her on Twitter @JaneMLB. This story was not subject to the approval of Major League Baseball or its clubs.