Danks unable to turn off Tigers' power
Danks unable to turn off Tigers' power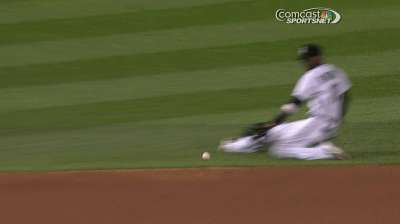 CHICAGO -- While the first two games of their series against the Tigers were marred by poor defense, it was a barrage of home runs that buried the White Sox in front of 26,793 at U.S. Cellular Field on Wednesday night, as they dropped their third consecutive contest to Detroit, 6-2.
In the first inning with two on and one out, White Sox starter John Danks left a 1-0 fastball over the heart of the plate and Prince Fielder hit it 409 feet over the right-center-field wall to give Detroit an early 3-0 advantage.
"It was a 1-0 count, a fastball count," Danks said of the pitch to Fielder. "And for some reason, I threw a fastball to a good hitter."
In the second, Austin Jackson -- who entered the contest hitting just .155 against lefties -- connected on a Danks changeup for another homer to make it 4-0.
Torii Hunter added a solo shot in the fifth, and a two-out RBI single in the sixth by Alex Avila capped the scoring for the Tigers.
"There's a lot of pitches I'd like to have back," Danks added. "It was a tough game, kind of a frustrating game, hard to make the ball do what I wanted it to and get it where I wanted it to be. This is a tough team to have a night like this. [I'll] try to forget about it and move on."
While the Tigers had no trouble offensively, the White Sox continued to languish in that department. They got shut out for six innings by Detroit starter Anibal Sanchez (8-7) and managed just two runs despite collecting the most hits (11) they've had in any of the three games of the series.
Despite being second in the American League with a .289 team batting average with runners in scoring position since June 1, the White Sox went 1-for-9 in that situation Wednesday night.
"For us, we're going to have to find a way to get those [hits] consecutively to kind of put a little more pressure on [the Tigers]," said White Sox manager Robin Ventura of his club's offensive malaise.
Of his approach to attacking White Sox hitters, Sanchez said he "just tried to keep the ball in the zone, go in and out, especially with the big dudes like [Alex] Rios and [Adam] Dunn."
Rios and Dunn combined to go 1-for-9 in the contest with four strikeouts.
The only scoring for the White Sox came late in the contest, beginning in the seventh inning with an RBI single by Alexei Ramirez, plating Dayan Viciedo, off Tigers reliever Bruce Rondon.
In the ninth, Viciedo hit a solo home run to right field, but it was too little, too late.
Danks (2-8) has given up 17 home runs in 76 2/3 innings pitched this season. Prior to his last two home starts, Danks had posted a 2.24 ERA at U.S. Cellular Field, but since then has gone 0-2 with a 7.07 ERA against the Braves and Tigers.
As to why he has been so susceptible to the long ball, Danks explained that he's not struggling with getting the ball over the plate, but rather locating it within the strike zone.
"I'm able to get the ball over the plate," the left-hander said. "But I'm not throwing the ball within the strike zone where I want to more often than not. Obviously, I've had some good games where I've been able to do that. It's something I need to be better at. ... It's something we'll just have to keep working on. It's something we've recognized and [we're] doing our best to fix it."
Ventura echoed Danks' analysis.
"He goes through good stretches," the manager said. "I think guys that have changeups like that, if you don't spot it where you want it, I think right now every once in a while he'll miss a spot and it becomes kind of in somebody's wheelhouse. I think he'll get sharper. I don't think it's a velocity thing or anything like that or he has to get stronger. He has to get sharper."
After scoring 17 runs in the three-game series against Atlanta following the All-Star break, the White Sox have only managed seven in their three games against the Tigers, and are a season-high 16 games behind division-leading Detroit in the American League Central.
With the loss the White Sox (39-59) have also fallen to 20 games below .500 for the first time since Sept. 26, 2007.
Manny Randhawa is an associate reporter for MLB.com. This story was not subject to the approval of Major League Baseball or its clubs.