Blue Jays can't hold lead in ninth, fall in 10th
Blue Jays can't hold lead in ninth, fall in 10th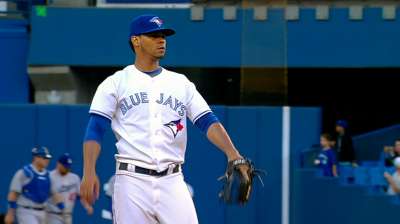 TORONTO -- John Gibbons didn't believe things could get any worse for his ballclub this season. It turns out he was wrong, as another series of heartbreaking events led to the Blue Jays' seventh consecutive loss.
One day after blowing a five-run lead to the Dodgers, Toronto followed up with another late-inning collapse. The end result has left Toronto reeling as it was swept for the second consecutive series and now hasn't won since July 13.
This time it was a costly error by Colby Rasmus in the top of the ninth inning that allowed Dodgers rookie Yasiel Puig to score all the way from first base in a game the Blue Jays would eventually lose, 8-3, in 10 innings.
"You get that spongy turf, and it took a big kick," Gibbons said of the ball that bounced over Rasmus' head. "[Puig] can fly and he was on the move. I thought we were rock bottom last night, but I guess not."
Toronto was on the verge of snapping its six-game losing streak when Casey Janssen took the mound in the ninth looking to protect a 3-2 lead. Things got off to a rocky start, as Janssen allowed Puig to reach base via a five-pitch walk.
Janssen recovered nicely by striking out Adrian Gonzalez and Hanley Ramirez to put the Blue Jays one out away from their first victory since the All-Star break. But the positive outlook evaporated during the very next at-bat, when Andre Ethier hit a line drive to center field.
Rasmus, who was playing deep to protect against potential extra-base hits, aggressively charged the ball before stopping in order to play it off the hop. The problem came when it took a high bounce off the turf, sailed above his head, bounced off his glove and allowed Puig to come around with the tying run.
The 26-year-old Rasmus declined to speak with the media after the game, but Janssen did and decided to take most of the blame for how the inning unfolded.
"I shouldn't have walked Puig in the first place," said Janssen, who suffered just his second blown save of the year. "You don't want to get into anything more than that. I threw a decent pitch, he hit it and you have to credit him for running hard from first to third. Leadoff walks always hurt and tonight it got me."
While the loss was a direct result of what happened in the ninth inning, it wasn't until the 10th that things fell apart for good. Left-hander Juan Perez was brought into the game as Gibbons did his best to make do with an overworked bullpen that was short on available arms.
It was his third time on the mound in the Blue Jays' past four games and the end result from a tired pitcher was rather predictable. Perez surrendered a two-run homer to Mark Ellis, a solo shot to Puig and a two-run double to Ethier before the inning mercifully ended.
Toronto's bullpen has been its biggest strength this season, but the workload might finally be catching up to the impressive group. The bullpen finished the three-game set vs. Los Angeles having allowed a total of 18 runs in 13 1/3 innings.
Even Perez's run of success has now come to an end. He entered the game having not allowed an earned run in 22 frames this season, but surrendered a total of five on Wednesday night.
"We showed that we can score against anyone at any time," said reliever Brandon League, who got the victory in both of the Dodgers back-to-back wins. "We got on a roll and we're rolling."
Everything was looking pretty good for the Blue Jays prior to that troublesome ninth. The club fell behind early, but a two-run double by Brett Lawrie in the fifth evened the game at 2-2 and gave the Blue Jays renewed life.
In the bottom of the eighth, Toronto even had a rare miscue go its way. With pinch-runner Rajai Davis on second base, Jose Bautista hit a sharp grounder to the right side of the infield. The ball was cut off by Gonzalez, but his throw to the pitcher covering first went well wide of the bag.
That allowed Davis to score and finally the Blue Jays caught a break. For a team that hadn't lost a game when leading after seven innings until just two days ago, it was supposed to be over. But Toronto now finds itself 10 games below .500, which is a direct result of having lost 11 of its past 14 contests.
"I think that everyone comes in every day with a fresh mindset and wants to win," Lawrie said. "It's just not happening for us the past few games. We have to come back with our heads up tomorrow and just try and do our job. All we can do is try and keep grinding."
The loss also overshadowed another impressive outing by Blue Jays right-hander Esmil Rogers, who had the unenviable task of trying to silence a Dodgers offense which had combined for 14 runs over its past two games. Despite pitching with men on base for almost the entire night, Rogers was able to come through with the extended outing the Blue Jays required.
Rogers had a baserunner in each of his seven innings and the only time a man didn't reach scoring position was in the first. But he still only allowed two runs while striking out four and walking just one.
The hard-throwing Rogers has become one of the surprise stories in the rotation this season. He has allowed three runs or less in all but three of his 10 starts this season while his ERA now sits at a respectable 3.74 in 84 1/3 innings of work.
"Maybe in my next start, I'll start in the stretch," Rogers joked. "Today, all day, I was in the stretch. I think from my windup I got more confidence than in my stretch, and today was more my stretch above my windup. It's nothing different from my last start ... I just made my pitches today."
Gregor Chisholm is a reporter for MLB.com. Read his blog, North of the Border, and follow him on Twitter @gregorMLB. This story was not subject to the approval of Major League Baseball or its clubs.