Dodgers push win streak to six with five-run 10th
Dodgers push win streak to six with five-run 10th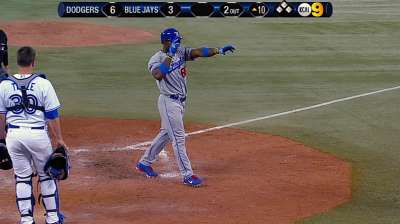 TORONTO -- On this kind of a roll, it's understandable that the Dodgers think they can win any game. But Wednesday night was a stretch even for them.
Down to their last strike in the ninth inning, they tied the game on an error and finished off a perfect trip coming out of the All-Star break with a remarkable 8-3 win over the Blue Jays, as Mark Ellis and Yasiel Puig homered in a five-run 10th inning.
"We showed that we can score against anyone at any time," said reliever Brandon League, who has resurrected his season in this series alone as the winning pitcher in back-to-back comeback victories. "We got on a roll and we're rolling."
The Dodgers played most of this game like the last-place club of June -- stranding runners, wasting an effective start from Ricky Nolasco, committing three errors. But the first-place team of July kicked in at the end, finishing the trip 6-0 and running their road winning streak to 10 for the first time since 1954 in Brooklyn. In Game 100 of the season, they won for the 23rd time in the last 28 games.
The last-place Blue Jays, meanwhile, played like a broken team in this series, the Dodgers scoring 22 runs off the bullpen in 12 1/3 innings, and 32 runs total.
"I thought we were rock bottom last night," said manager John Gibbons, whose Blue Jays blew a five-run lead late Tuesday, "but I guess not."
All nine Dodgers starters had hits on Wednesday night, led by four (two doubles) from Andre Ethier, three from Puig, who also doubled and flipped his bat thinking it was a home run. Seven different players scored.
Puig scored the tying run with two outs in the ninth. He worked a walk from closer Casey Janssen to lead off, although he also drew the plate umpire's ire for discarding his bat and walking toward first base when he thought strike one was ball four.
Adrian Gonzalez and Hanley Ramirez then struck out, and Ethier was one strike away from ending the game when he lined a soft single to center field. Center fielder Colby Rasmus charged and jammed on the brakes when caught between hops. The ball bounced high off the turf, bouncing off his glove and over his head.
"We got a lucky bounce," said Ethier, "and got lucky old Crazy Legs was on base."
The aggressive Puig, breaking with the pitch, scored easily from first to tie the game, but denied he was headed home whether Rasmus had fielded the ball cleanly or not.
"I waited to see what the third-base coach said," Puig said.
Dodgers manager Don Mattingly wasn't sure whether that was true, or whether Puig could have scored had Rasmus made the play.
"I don't know about that," he said. "We didn't get to find that out. Obviously, he was running on the pitch."
After going 3-for-17 in five previous games, this was Puig's best offensive game of the trip and the home run was his first since July 2. Typically, it came with enough breaches of baseball etiquette to leave his manager torn.
"This is a little bit more of what we've been seeing," Mattingly said of Puig's return to earlier form. "He hits the ball and thinks it's out and he's not running, then throws the bat on what looks like a strike down the middle [when he eventually walked]," Mattingly said.
"It's what you get. Craziness. But it looks like he's getting back in the strike zone. The liner to right [for a fifth-inning single] was good. He looked more like himself."
And with Matt Kemp back on the disabled list for two weeks or more, the Dodgers need more of the offense that Puig delivered when he arrived.
This offense, however, can contribute literally from top to bottom, as it showed in the 10th. After a one-out walk to Juan Uribe, Mark Ellis smoked an 0-2 slider from Juan Perez for his fifth homer and the Dodgers kept adding on.
"I'll tell you what, they swing it over there, top to bottom," said Perez. "That's one of the top offenses we've seen to be honest with you."
On Tuesday, the Dodgers won after trailing through seven innings for only the second time in 37 situations. On Wednesday, they won after trailing through eight innings for only the second time in 41 situations.
"Early in the year we didn't come back in any games," said Mark Ellis, 11-for-25 on the trip. "Lately we're doing it and that's a sign of a good team. Like last night, we didn't give away any at-bats. We feel we can do it no matter how many runs we're down."
After Puig's homer, Gonzalez, whose throwing error allowed Toronto to take a 3-2 lead in the eighth inning, walked. Ramirez doubled Gonzalez to third. Ethier doubled them home, finishing the trip 9-for-25 with seven extra-base hits.
"You can tell lately that he's caught his stride the last month and a half," Mattingly said of Ethier. "He's really been big for us since he started playing center field. He's been a great teammate without any complaints at all."
Ken Gurnick is a reporter for MLB.com. This story was not subject to the approval of Major League Baseball or its clubs.