Chen, O's stung by homers in loss to Royals
Chen, O's stung by homers in loss to Royals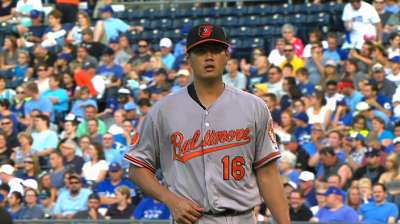 KANSAS CITY -- Five outs away from a win, the Orioles couldn't hang on Wednesday night as they lost their second straight one-run game to the Royals -- 4-3 on a walk-off hit in the ninth in front of 17,410 at Kauffman Stadium.
O's reliever Darren O'Day, who recorded the final two outs of the eighth following starter Wei-Yin Chen, surrendered a one-out ninth-inning single to David Lough and Alcides Escobar hit a pitch off the left-field wall -- several inches from hustling left fielder Nate McLouth -- for an RBI double to win it.
"I was trying to throw that away and obviously it got in right where he likes it," O'Day said of the fateful fastball to Escobar. "He put a good swing on it. I thought Nate had it. But it was just too good of a pitch."
The defeat, the O's second in six games since the All-Star break, was more about the offense. After opening the second half hitting .340 (17-for-50) with runners in scoring position, the Orioles are 0-for-11 with 11 left on base over the last two games, grounding into three double plays on Wednesday against Royals starter Ervin Santana.
"I don't really care about cycles," Orioles manager Buck Showalter said when asked if the recent lull was something to be expected over the course of a 162-game season. "I'm interested in today, tonight, scoring more runs than they do. Cycles, that's for people who want to wallow around in some tendency. Change it. The next day. That's what we hope to do tomorrow and split the series, and have a good road trip."
The defeats marks the Orioles' second in their last seven games and, coupled with the Boston Red Sox loss, keeps third-place Baltimore (57-45) 3 1/2 games back in the American League East standings.
"It must [go in cycles] because we were killing the ball the past two games before that," left fielder Nate McLouth said of an Orioles offense that collected three consecutive 10-hit games ending with Monday's win. "Ervin Santana is a good pitcher. I don't know how many chances we had with runners in scoring position, but it didn't seem like a ton. When we added that run in the eighth, I thought it was going to be pretty important. But they came back and got us, so it was a tough night."
And Chen was the tough-luck loser. The Orioles lefty dominated any Royals hitter not named Eric Hosmer, who hit two homers and had three RBIs to account for most of Kansas City's offense.
"Both times, I was behind in the count," Chen said through interpreter Tim Lin. "The first one was a 3-2 fastball and I think that was really good location, but he just swings the bat really well and hit a home run. The second one, the location was OK. But I think I can do better. Obviously tonight, he swung the bat really well. He's a really good hitter."
Chen allowed a solo homer to Hosmer, the second batter he faced to start his night, and cruised after that, needing just 67 pitches to get through five innings. Chen retired 15 of 16 after the first inning, pitching around Billy Butler's two-out double in the sixth and a single and Manny Machado's error in the seventh.
Staked to a two-run lead to start the eighth, Chen allowed a one-out single to Lorenzo Cain before Hosmer struck again, sending a 2-1 pitch over the center-field fence to even the game at 3 and end Chen's night.
"He was a guy that throws a lot of heaters and I didn't want to miss my pitch right there," Hosmer said. "I was in a hitter's count and I just got it going on time and caught it out front."
The O's, held to just one run on three hits by Royals starter Bruce Chen on Tuesday night, grabbed the lead on Wednesday courtesy of catcher Matt Wieters' two-run homer. Wieters, who got a rare off-day on Tuesday, continued to swing a hot bat in the second half as he unloaded on Santana's first pitch in the fourth inning. The blast also scored Adam Jones, who reached on Hosmer's error.
The Orioles pushed across another run in the eighth with a pair of singles to start the frame from Brian Roberts and McLouth. The duo moved into scoring position on Machado's sacrifice bunt and, after Santana intentionally walked Nick Markakis, Roberts scored on Jones' groundout. But that was all the O's would get off Santana, who induced a groundout from Chris Davis and exited after allowing three runs (one earned) over eight innings.
"You can say we have some, but you got to stay with your strengths," Showalter said of his club that leads the Majors in homers, but instead bunted several times in the loss. "We are not a club that's completely dependent on the home run. We can do some things. There's two sides to it, you got to do some things to get people out there and you then you got to get them in. So, we have pretty consistently this year just the last couple games we haven't done it."
The Orioles, who had at least one runner on in eight innings, couldn't capitalize on an earlier miscue by the Royals, with Davis drawing a leadoff walk in the second and Wieters reaching on Miguel Tejada's error. Santana got Hardy to bounce into a double play and rookie Henry Urrutia flied out to the warning track.
Chen, who turned 28 on Sunday, allowed more than two runs for just the second time in his last eight starts and has picked up right where he left off. After missing nearly two months of the season with a strained left oblique, Chen had hoped the silver lining of the injury would be that he was stronger down the stretch. And in his first three starts back, it's hard to argue against that as Chen has turned in three quality outings and recorded at least one out into the seventh in every one.
"You don't want to waste an effort like that," O'Day said. "We scored an extra insurance run and he pitched really well. I think I was coming in for [Billy] Butler either way, so that was his last batter. Obviously it would have been great to get out of there and get [closer Jim Johnson] in the game. It's not how it turned out. That's why you play all the outs."
Brittany Ghiroli is a reporter for MLB.com. Read her blog, Britt's Bird Watch, and follow her on Twitter @britt_ghiroli. This story was not subject to the approval of Major League Baseball or its clubs.