Hosmer's jacks set up Escobar's walk-off hit
Hosmer's jacks set up Escobar's walk-off hit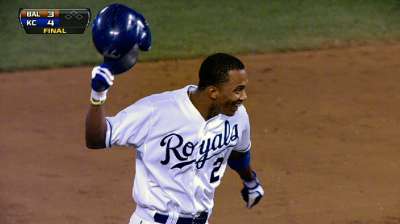 KANSAS CITY -- Alcides Escobar thought his soaring drive in the ninth inning might leave the ballpark.
"When I hit it, I said, 'Oh, c'mon ball, c'mon, c'mon.' And when I saw the guy going back and running, running, running, I said, 'Ohhh -- now, D-Lo, you can run!'"
David Lough, as the ball banked off the left-field wall past Baltimore's Nate McLouth, was indeed running and didn't stop until he'd crossed the plate to give the Royals a 4-3 walk-off victory over the Orioles on Wednesday night at Kauffman Stadium.
Escobar had a game-winning double. The next running was by all the Royals who came charging out of the dugout to engulf Escobar in a happy group embrace around second base. While 17,410 fans roared, the Royals celebrated their fifth walk-off win of the season.
The Royals' other three runs came on two homers pounded by Eric Hosmer off Orioles left-hander Wei-Yin Chen, who completely perplexed the other hitters. Hosmer was intent on redeeming himself for an error that hurt Royals starter Ervin Santana.
Or was it an error?
"They called it an error, but in my book that's not an error," Royals manager Ned Yost said. "That's an extremely tough ball to make a play on, that short hop there."
The skipper referred to a sharp bouncer by Adam Jones in the fourth inning. Hosmer couldn't snag it. So, Jones was on when Matt Wieters belted a two-out home run to right field to give the Orioles a 2-1 lead.
"It was an error, one of those tough ones. It was a do-or-die play," Hosmer said. "You want to come in and charge the hop because Jones is too fast to sit back and get the other hops. It stinks when they hit the home run two batters later, but that's the way this game goes sometimes. But you knew you had two more chances to redeem yourself."
Santana remembered Hosmer's reaction.
"After he had that error, he's like, 'My bad, man, my bad. I've got you, I've got you.' I said, 'Don't worry about it,'" Santana said.
Hosmer gave the Royals their first run on his blast over the right-field wall in the first inning. After his error, he waited for another opportunity.
Meantime, in the eighth, the Orioles managed another run off Santana for a 3-1 lead and Chen was dealing. But in the bottom half, Lorenzo Cain drilled a one-out single and up came Hosmer.
"He was a guy that throws a lot of heaters and I didn't want to miss my pitch right there," Hosmer said. "I was in a hitter's count and I just got it going on time and caught it out front."
The ball traveled high over the right-center-field wall, Hosmer's 11th home run. The score was 3-3 and Chen was out of the game.
Right-hander Luke Hochevar pitched a scoreless ninth inning -- closer Greg Holland was warming up, just in case -- and the Royals came to bat against right-handed reliever Darren O'Day.
Miguel Tejada lined out, but Lough smacked a grounder up the middle that ricocheted off second base into left field for a single. Escobar jumped on O'Day's next pitch and sent it arching through the sky with McLouth in pursuit. Lough sprinted hard and rounded second, watching closely.
"I went to second base, because if he catches it I have to go back, but it ended up going off the wall, and I read it once it hit that top pad and I kept going," Lough said. "I saw Eddie [Rodriguez, third-base coach] and he waved me on."
McLouth leaped and extended his glove, but missed the ball which bounced off the top pad.
"Four or five inches. It wasn't that close," McLouth said.
The ball rolled to center fielder Jones, but Lough was home well ahead of the throw-in.
"Lough did a great job of getting to second base, reading the play when it bounced off, then hustling around to score," Yost said. "I knew Esky smoked it, but this is a big ballpark, tough to get the ball out of."
Since coming out of the All-Star break burdened by five straight losses on the road, the Royals are 4-2 on this homestand. They've taken two of three from American League Central leader Detroit and now two of three from East contender Baltimore with one game remaining.
"They're an extremely tough team. Last night was a big one," Yost said. "We didn't play well the first night, but we played very well last night and very well tonight. It's good to beat them."
The Royals still trail the first-place Tigers, who also won on Wednesday night, by eight games but now they're only four games under .500, their necessary launch point for contention hopes.
"We know what we're capable of doing here," Lough said. "Taking that series from Detroit and hopefully taking the series tomorrow against Baltimore. I think that's making a statement."
The Royals also have played the most one-run games in the Major Leagues, 36, and they've won 19 of them. Probably none any sweeter, though, than the latest.
Dick Kaegel is a reporter for MLB.com. This story was not subject to the approval of Major League Baseball or its clubs.