Roughed up in St. Louis, Phillies drop fourth straight
Roughed up in St. Louis, Phillies drop fourth straight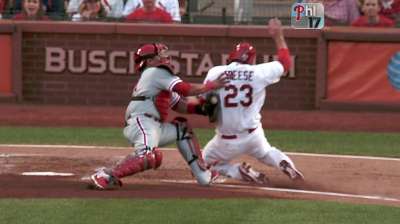 ST. LOUIS -- Phillies manager Charlie Manuel looked at the scoreboard Wednesday night at Busch Stadium and could not believe his eyes.
"It was an ugly game to not have an error on the board," he said.
The Phillies suffered one of their ugliest defeats of the season at the worst possible time in an 11-3 loss to the Cardinals. They have been trying to convince the front office to buy, or at the very least stand pat, before the July 31 Trade Deadline. But since they returned from the All-Star break on Friday, they have not made any case to buy at all. In fact, they have been pushing that thinking in the opposite direction.
The Philies have gone 1-4 since the break, including four consecutive losses, to fall to 49-52 and are eight games behind the first-place Braves in the National League East. They also fell 8 1/2 games behind the Reds for the second NL Wild Card, after Cincinnati beat San Francisco on Wednesday.
The Phillies have four games remaining on their nine-game road trip and five games remaining before the Trade Deadline.
Time is short.
"We're standing there, and we're trying just as hard as we can try," Manuel said. "That's just kind of how it went. We had trouble in the outfield, we had trouble all over the place, really."
Asked afterward for reaction about his team's play, Phillies general manager Ruben Amaro Jr. declined comment.
"I'll talk tomorrow," he said.
But Manuel was not exaggerating. This loss was ugly.
Phillies left-hander John Lannan had pitched brilliantly in his previous two starts, allowing just eight hits and one run in 16 innings against the Nationals and White Sox. But he allowed two runs in the second inning and a third in the third to make it 3-0.
The night's first gut punch came in the fourth.
Lannan struck out Matt Adams on a foul tip and Pete Kozma swinging for two outs to start the inning. He then got Cardinals pitcher Jake Westbrook to 1-2, but walked him on six pitches. Westbrook surprisingly stole second base, then scored on a single up the middle from Matt Carpenter to take a 4-0 lead.
"There were times I didn't execute," Lannan said. "The walk to Westbrook was pretty big. I threw a lot of pitches after that. I felt pretty good. I just didn't execute when I needed to."
The Phillies scored their first run of the game in the fifth, when Carlos Ruiz hit a two-out single to right field to make it 4-1. Manuel then had John McDonald pinch-hit for Lannan, but he hit into an inning-ending double play.
McDonald entered the at-bat with just four hits in 46 at-bats this season. Lannan was 4-for-16.
"I look and [Lannan] has 86 pitches or something," Manuel said. "I thought he was going to go another inning probably. With one out, instead of bunting I might as well send somebody up and try to get a hit. The guy hit into a double play."
Phillies right-hander J.C. Ramirez replaced Lannan in the fifth. He had a 3.38 ERA in eight relief appearances this season, but one wondered how long it would last considering he had a 6.53 ERA in 23 appearances with Triple-A Lehigh Valley.
Ramirez finished the inning with an 8.00 ERA.
He allowed three doubles and walked two, but John Mayberry Jr. made a poor performance even worse when he dove headfirst for Shane Robinson's ball hit into shallow center field, flopping a few feet short and allowing the ball to skip by him to allow three runs to score on a triple, handing the Cardinals a comfortable 9-1 lead.
"Yeah, he's got to keep the ball in front of him," Manuel said. "He can't dive. I talked to him about it, but he knows. He knows. Can't let that ball get by you. You've got to keep that ball in front of you."
It was over.
The Phillies' season could be, too. If they want to stick together, they need to catch fire immediately. Another game or two like Wednesday and their fate could be sealed.
"Seems like everything we did wasn't good," Manuel said.
Todd Zolecki is a reporter for MLB.com. This story was not subject to the approval of Major League Baseball or its clubs.