Relentless Redbirds race past Phillies for series win
Relentless Redbirds race past Phillies for series win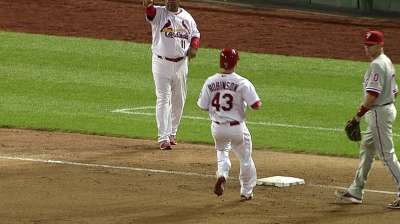 ST. LOUIS -- After going 3-for-3 in his first career multi-hit game his last time out, Jake Westbrook showed off yet another uncharacteristic offensive skill Wednesday with his second career stolen base. But when he wasn't running the bases, Westbrook was holding the Phillies to three runs through seven innings while the Cardinals knocked around Philadelphia for an 11-3 victory at Busch Stadium.
In the fourth inning, Westbrook reached on a walk, stole second and then rounded third for home on an RBI single from Matt Carpenter. After the game, the 35-year-old righty made clear that it wasn't his first foray into thievery.
"Oh, I already had a stolen base, but it was a first and third and they didn't throw it," Westbrook said of his previous steal. "This is a little more legit. It's always fun when you run the bases. It makes you feel like you're doing something."
Westbrook kept the Phillies in check, surrendering just one run over his first six frames before a four-hit, two-run seventh inning saw him hand the ball off to rookie reliever Kevin Siegrist for the eighth.
"I felt like, even though they were hitting the ball hard, right at guys with some fly balls, I still felt like I was pitching a lot better than my last start," he said. "That last inning, giving up a couple runs is something I need to do a better job of. There's going to be ballgames where we don't have nine runs to work with."
Beyond the seventh, Philadelphia gave Westbrook trouble only in the fifth, when he allowed three singles and a run before escaping the jam by inducing a double play. His night ended with three earned runs allowed on nine hits. He walked no batters and struck out two over seven innings.
As the Cardinals racked up 16 hits and 11 runs, catcher Yadier Molina and Allen Craig bounced between No. 1 and No. 2 among the National League's batting leaders, with Molina regaining sole possession of the No. 1 spot.
Craig and Molina entered the game tied with a .335 average, but Molina surpassed his teammate by .002 of a percentage point to take the lead at .339. Craig went 2-for-4 with two walks to Molina's 3-for-5 game that included an RBI.
St. Louis outhit Philadelphia, 16-9, scoring its 11 runs despite stranding 11 runners. The Cardinals entered the game with 24 wins on the year without a home run, which was the club's most through 97 games since 1991 (36 wins), and Wednesday became the 25th.
"We take a lot of pride in manufacturing runs," manager Mike Matheny said. "We sure don't turn our nose up to the home run. There's nothing wrong with that. They hit them, we just don't necessarily have guys going up there trying to hit the home run. Usually doesn't work out well when you do that anyhow."
The Cardinals built a four-run lead through four innings against starter John Lannan and then ran away with it in the fifth, when Craig, David Freese and Matt Adams each ripped doubles to center field against Phillies reliever J.C. Ramirez. The right-hander walked two batters to load the bases for Shane Robinson, who cleared them by knocking a 2-1 pitch into center. Center fielder John Mayberry couldn't come up with the diving grab, and the speedy Robinson reached third for his first career triple.
Lannan lasted just four innings, during which he allowed four earned runs on eight hits and two walks. Philadelphia has now lost four straight.
"We're trying just as hard as we can try," said manager Charlie Manuel. "That's just kind of how it went. We had trouble in the outfield, we had trouble all over the place, really."
Matheny spoke Wednesday afternoon on the importance of the Cardinals' bench players going forward, especially with an 11-game road trip on the horizon and few off-days in August. And if Wednesday was any indication, the St. Louis lineup shouldn't miss a beat.
Robinson tied a career high with three hits and three RBIs; Adams, starting with Matt Holliday on the disabled list, went 2-for-4 with his fourth career three-RBI game; and even career Minor Leaguer Brock Peterson chipped in his first big league hit with an RBI single in the eighth.
"Seeing our guys come off the bench without a lot of opportunities and still being productive is big for us," Matheny said. "We're going to use our guys, there's no question about it. We're going to have to."
Both of Adams' hits came against 0-2 counts.
"I think with that 0-2, I see the ball, try to see the ball as long as I can and just battle up there," Adams said. "You've got two strikes, you don't want to take the third strike right down the middle, so I just dial in my focus and just battle."
With the win -- which came in front of 44,317 fans, the 18th sellout of the season at Busch Stadium -- the Cardinals secured a series victory. Wednesday's crowd put the Cardinals over the 2 million mark for season attendance for the 32nd time in franchise history and the 18th consecutive season.
Chad Thornburg is an associate reporter for MLB.com. This story was not subject to the approval of Major League Baseball or its clubs.