Drew not changing his swing for Fenway
Drew not changing his swing for Fenway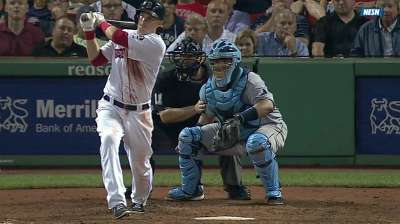 BOSTON -- On Tuesday, with two men on base in the second inning of Boston's 6-2 win over Tampa Bay, Stephen Drew hit a ball as hard as he has in a while, a straight blast to the warning track in center field.
Drew knew he hit the ball well, but it wasn't hit well enough for Fenway Park. Desmond Jennings caught it a few steps in front of the wall that sits 420 feet from home plate.
At another park, maybe it's a home run. Although Drew has hit for a higher average at Fenway than on the road this season, he's hit just two homers in 140 home at-bats while cranking three in 101 at-bats on the road.
Because Drew is a left-hander with natural pull, his power has been a tough fit for the historic Boston park.
"That's a good swing," Drew said of his loud out on Tuesday. "Overall, looking back at that, I had a good swing at itThat's Fenway, though. You have the 310 [feet to left field] that plays pretty good to right-handers -- and left-handers if you didn't hit the ball quite as good.
"Right field, though, that's a big yard out there."
As far as power goes, Fenway hasn't treated Drew too well. Of his 82 career home runs, 10 would never have left the yard if they had been hit at Fenway Park, according to ESPN's Home Run Tracker.
But Drew has found success in other ways, using the triangle to help smack a few of his six triples, all of which came at home. Rather than try to change his swing to hit more opposite-field shots against or over the short porch in left field, Drew would rather stick with his own approach.
"You can't control it once it leaves the bat," he said.
"His swing is built to be straightaway to the pull side," manager John Farrell said. "It's not so much an inside-out swing. The one thing we don't want to do is look to tailor his swing just because of this ballpark, and then it might take away from other strengths that he does have."
Drew, who for reasons he can't explain has always been a better second-half hitter, was 1-for-9 entering Wednesday since returning from the 15-day disabled list. He had gone 10-for-27 with six extra-base hits in seven games before going down with a hamstring injury on June 28.
"I was feeling really good right before I got hurt," he said. "It's kind of frustrating when you go through it. I felt really good, and you kind of lose some of that rhythm.
"It's coming around. I'm not saying it's quite there, but it's feeling better."
Jason Mastrodonato is a reporter for MLB.com. Follow him on Twitter @jmastrodonato. Michael Periatt is an associate reporter for MLB.com. This story was not subject to the approval of Major League Baseball or its clubs.