Torres thriving in new role as reliever
Torres thriving in new role as reliever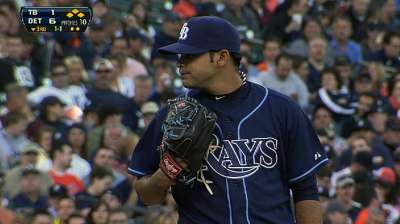 BOSTON -- Alex Torres has been enjoying a superlative season, having allowed just eight hits in 99 at-bats by opponents.
According to the Elias Sports Bureau, Torres is on target to become only the second Major League pitcher in the last 50 seasons to allow fewer than 10 hits in the first 100 at-bats against him.
In 2013, Cincinnati's Aroldis Chapman allowed nine hits in the first 100 at-bats against him.
"The biggest concern [for Torres] has been command," manager Joe Maddon said. "He [used to throw] more curveballs. He was more of a breaking-ball pitcher -- everybody talked about how good his curve was. The changeup was there, but I think he's found his lot, pretty much, primarily fastball-changeup, with a curveball. So I think he's learned to identify what he does best, and he's doing it more consistently."
Maddon noted that Torres' switch from starter to reliever could also have made a difference.
"It's been fun to watch, man," he said. "This is what he was doing in the Minor Leagues. And now, all of a sudden, he's taken it out there. You can see the confidence that's going on. It's going to be hard to maintain this level, but I think he's going to be good for a long time."
Bill Chastain is a reporter for MLB.com. This story was not subject to the approval of Major League Baseball or its clubs.