Maddon gets a look at Longoria from two-hole
Maddon gets a look at Longoria from two-hole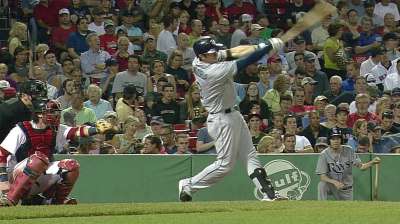 BOSTON -- Evan Longoria has hit safely in six straight contests and has three homers in his last five games after hitting only one home run in his previous 18, hitting .136 during that span.
Nevertheless, manager Joe Maddon said Longoria is "still not clicking on all cylinders."
"He's hit the long ball, but the consistency with the hard contact has not been present," Maddon said. "I don't really see anything awkward from the side regarding his mechanics or anything like that. It's just got to be what he's seeing or feeling or looking for. I didn't necessarily see any expansion recently. He's just kind of missing his pitch a little bit."
Hoping to give Longoria a little jump-start, Maddon moved Longoria from his usual third spot in the batting order to the second slot for Wednesday night's game against the Red Sox.
"Just trying to un-lodge him a bit by putting him in the two-hole," Maddon said. "Hopefully, he's going to see a different group of pitching. It's kind of like rearranging the chairs on the deck; see if it presents differently. I know he's hit a couple of homers, but I really want to get him unearthed and rolling in the right direction. … He's going to be behind Desmond [Jennings], in front of [Ben Zobrist], and you've got [Wil] Myers coming after that. So we'll just see what happens."
Maddon added that if Jennings had not been hitting the way he has been lately -- since returning to the leadoff spot on July 1, he has hit .333 -- he would have put Longoria in the leadoff spot.
"But listen, he's been doing better," Maddon added. "It's not like he's been doing badly. He's hitting his home runs. The last seven days, the numbers have gotten a lot better. But [to get] that overall consistency we're accustomed to, [we'll] just give him a different look."
Bill Chastain is a reporter for MLB.com. This story was not subject to the approval of Major League Baseball or its clubs.