Crisp's go-ahead homer spurs A's in Houston
Crisp's go-ahead homer spurs A's in Houston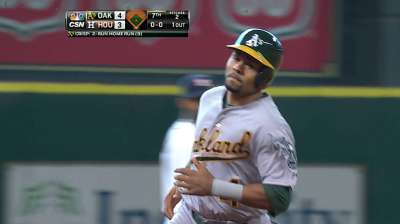 HOUSTON -- Oakland's offensive performance during a three-game stay in Houston wasn't exactly an inspiring one. It was, however, a winning one.
The A's were just 3-for-26 with runners in scoring position and left 23 men on base in the series. Yet they escaped with two wins, including Wednesday's 4-3 victory, to finish their road trip 3-3.
Chalk it up to typical good pitching, with help from the occasional long ball.
Oakland collected two of them on this day and five in the series, with John Jaso setting the tone in the first via a solo shot to left off Bud Norris, and Coco Crisp tying a bow on the game with a go-ahead, two-run dinger off former teammate Travis Blackley in the seventh.
"That gives us confidence that we can come back, that if we get a guy on base we're one hit away from being in a better position than we were," manager Bob Melvin said. "We haven't hit as many homers as we did last year, but that's certainly a club in our bag, and I expect it to come out here more so in the second half."
"It's always nice to win in any kind of fashion," said Crisp. "I don't think we rely on home runs. We just go up there and battle, and it just so happened that this is how this series broke down. We're always just trying to manufacture any runs we can."
Eric Sogard added an RBI double in the three-run seventh, which wiped away Houston's 3-1 lead against A.J. Griffin, who came out victorious in the matinee following 6 1/3 innings of work.
Jerry Blevins and Jesse Chavez combined for 1 1/3 scoreless innings thereafter, and righty Ryan Cook put together a four-out save, with both Sean Doolittle and Grant Balfour unavailable due to their recent workloads, to seal the deal.
Griffin allowed just six hits in his time on the mound, walking none and fanning eight, but two of the hits left the yard, upping his home run total to 23 on the year, tying him for second most in the American League.
"From the first pitch of the game," Griffin said, "I felt pretty good. I felt great. Two home runs. That's pretty me, I guess.
"[Ray] Fosse always tells me that Catfish [Hunter] gave up a lot of home runs, so I shouldn't really worry about it, but I'm still pretty sick of giving them up."
Of the 23 Griffin has allowed, 17 are of the solo variety, with 16 coming on the road. Moreover, seven have come from his last four starts, after he had given up just five total over his previous seven outings.
Jose Altuve took him deep to left field in the fourth, and Carlos Corporan launched a two-run shot into the right-field stands in the sixth.
That's all the Astros would get against Griffin, whose performance settled Oakland's starters' ERA at 2.68 on the road trip.
"Overall, I felt really good," Griffin said. "My lanes were really good to the plate with all my pitches, I felt like I was doing a good job of keeping my delivery the same for every pitch, keeping them off balance for the most part. That was the most locked in I've felt in a long time, probably all year."
"We're not hitting on some of the other cylinders, so the pitching was big for us here on this trip," Melvin said. "It's always been big for us. That's usually the key to us winning close games, and we played much better defense today."
Oakland's crisp play was indeed refreshing, coming off a pair of three-error games.
"Very much so," said Melvin. "We looked like we had good focus, and made some good plays, and that's key for us, especially when we're not swinging the bats well. We have the pitching, and we need to play good defense behind them."
Jane Lee is a reporter for MLB.com. Read her blog, Major Lee-ague, and follow her on Twitter @JaneMLB. This story was not subject to the approval of Major League Baseball or its clubs.