Norris' solid effort goes for naught in finale vs. A's
Norris' solid effort goes for naught in finale vs. A's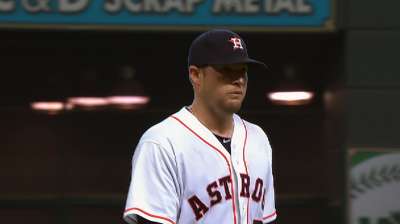 HOUSTON -- As trade rumors continued to swirl around Bud Norris, the Astros' right-hander gave prospective teams further reason for interest with a solid performance on Wednesday vs. the A's. Norris went 6 1/3 innings, striking out seven while yielding just four hits, three walks and three runs.
The Houston bullpen, however, couldn't hold a lead as Oakland sent Houston packing for a 10-game road trip with a 4-3 loss at Minute Maid Park. It was Oakland's 11th win in 12 games over the Astros this season.
Norris said the thought of Wednesday's start being his last as with the Astros has weighed heavy on his mind.
"It's something I've prepared myself for last night and the days leading up to it," said Norris, who has limited opponents to three runs or fewer in 16 of his 21 starts this season while throwing a quality start in 12 of his last 16. "It's definitely a little emotional, too. I just went out there and threw the best ballgame I could and give my team a chance to win.
"It's a challenge for sure. There's a lot going on, but you have to go out there and keep your focus and just go out there, play the game and pitch."
Norris thanked the Houston fan base for its support of him over the last four years.
"They've been great all along," Norris said. "I've played here four years and they've always had my back. I really, really appreciate it. When you get that support from the people in the city, it's real exciting. I thank them for everything, whatever my future holds for me."
However, Norris said his focus is not on trades, but rather his next outing: "My focus is still here, and my next [start] is going to be on Tuesday in Baltimore."
Coco Crisp soured the moment by delivering a two-run homer off Astros reliever Travis Blackley (1-1) in a three-run seventh inning, which erased Houston's 3-1 lead. It was the 10th homer of the season for Crisp, who is hitting .388 (17-for-44) with 13 runs, four homers and 10 RBIs in 11 games against Houston this season.
"I just didn't do my job," said Blackley. "I just left one about three inches too high, and he did his job well and took care of it."
It started well enough for Norris with a strikeout of Crisp to open the game. But the feeling was short-lived. John Jaso followed with an opposite-field homer. The Oakland catcher deposited Norris' 3-2 pitch into the Crawford Boxes for his third homer of the season, giving Oakland a 1-0 lead.
Norris completed a three-strikeout first inning by fanning the next two batters, Josh Donaldson and Jed Lowrie. He struck out three more before Jaso dumped a two-out double down the left-field line in the third inning.
Jose Altuve tied the game at 1 in the fourth inning, blasting a 3-2 pitch from A's starter and winner A.J. Griffin (9-7) between the Crawford Boxes and the railroad tracks. It was Altuve's first homer in 153 at-bats.
Altuve went 2-for-4 in his team-leading 28th multihit game and also recorded his 24th stolen base, which leads all second basemen.
It was just the second hit of game for the Astros off Griffin, who went 6 1/3 innings, striking out eight while scattering six hits. Marc Krauss got the first one, a two-out single in the third inning after Griffin retired the first eight batters he faced. The right-hander did not walk a batter.
Norris worked out of a sixth-inning jam while surpassing the 100-pitch mark.
"I felt like Bud was outstanding," said Astros manager Bo Porter. "His slider was unbelievably sharp; great command of his fastball in and out. He battled and pitched like a No. 1 starter.
"We gave him a shot to go out there and finish the [seventh]. He gave us everything he had.
The Astros broke the 1-1 tie in the sixth inning. Jason Castro lined a one-out double down the right-field line, and two batters later, Carlos Corporan belted a two-run homer to right to give the Astros their first lead of the game, 3-1. It was the sixth homer for Corporan, who drilled an 0-1 pitch from Griffin into the first few rows of the bleachers.
Of the switch-hitting catcher's 10 career homers, nine have come when batting left-handed.
Griffin said he was baffled by Corporan's ability to even reach the pitch.
"It was a changeup down, and I don't know how he got it, because it looked like John [Jaso] was about to block it. He just went and got it," Griffin said.
But despite getting the matchup they wanted, Crisp won it for Oakland an inning later.
"We brought Blackley in with the thought process this is the matchup we want, and Crisp won the matchup," Porter said.
Glenn Sattell is a contributor to MLB.com. This story was not subject to the approval of Major League Baseball or its clubs.