Weaver twirls gem, dominates Twins once again
Weaver twirls gem, dominates Twins once again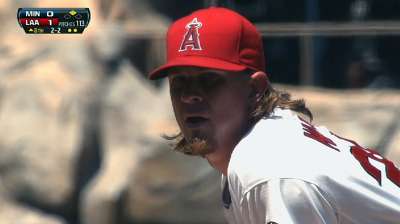 ANAHEIM -- Once again, Jered Weaver showed why he is the ace of the Angels' rotation. Entering Wednesday's series finale, the Angels needed both a win and a lengthy outing to rest a tired bullpen.
And Weaver gave them both in a 1-0 victory over the Twins at Angel Stadium.
The right-hander threw eight scoreless innings as he helped the Angels put a halt to their three-game losing streak and finish a six-game homestand on a positive note.
"You go about every game the same way regardless of it you've lost seven in a row or won seven in a row," Weaver said. "You go out there and battle and try to win games; that's your job as a starting pitcher, to try to extend it as much as possible and limit runs."
That's precisely what Weaver did as he limited the Twins to two hits, set a new season high with nine strikeouts and retired 19 straight at one point.
Despite throwing 22 pitches in the first inning, Weaver navigated his way through eight innings, limiting the work for the bullpen -- which had pitched 14 innings in the last three games.
"If we had another short game this afternoon, we are not set up at all for tomorrow," Angels manager Mike Scioscia said. "We're in better shape tomorrow with Jered throwing eight today."
Weaver has now thrown 14 2/3 scoreless innings in two starts since the All-Star break and is the first Angels pitcher with three straight scoreless starts at Angel Stadium since Nolan Ryan 1976-77.
"Fastball command was good, was able to mix in the changeup later and defense took care of the rest," Weaver said.
Weaver was dominant and has now limited the Twins to two hits or less in eight or more innings three times in his career, but he was not the only effective pitcher on the afternoon.
Twins starter Mike Pelfrey, facing an offense that has now scored just 19 runs in the last nine games, limited the Angels to one run on five hits in six innings of work.
"My fastball was really good and the velocity was there and the movement was there," Pelfrey said. "I was locating on both sides of the plate. If you go in to righties, then it opens it up to go away."
The Angels' lone run came in the first inning after J.B. Shuck singled, stole second and scored on Albert Pujols' RBI single.
The Angels had a chance to add some insurance runs in the eighth when Collin Cowgill and Erick Aybar singled consecutively. The hits put runners on first and third with just one out, but Shuck lined out to short and Mike Trout, who was unable to extend his hitting streak to a 16th game, flew out to right.
One night after allowing five runs in a decisive 10th inning, Ernesto Frieri pitched a scoreless, although adventurous, ninth and recorded his 25th save of the season.
Clinging to a 1-0 lead, Frieri opened the final frame by walking Clete Thomas and hitting Doug Bernier with a pitch.
Justin Morneau followed with a blooper to Frieri that did not invoke the infield fly rule. Frieri let the ball drop and the Angels proceeded to turn a double play.
"For an infield fly, we look for if the ball has arc and if the fielder can catch it with ordinary effort, and if the fielder gets comfortably underneath," crew chief Ted Barrett said. "That one definitely had enough arc, but the fielder has to get comfortable underneath the ball to catch it. That's the criteria that wasn't met."
Twins manager Ron Gardenhire wasn't pleased with the explanation.
"It was a judgment call with the infield fly," Gardenhire said. "They said the pitcher wasn't camped underneath it. But there's a reason he didn't camp underneath, and it's because he was going to let it fall. They also said it had to be 20 feet in the air, and I didn't have my tape measure out, but I'm guessing it went 20 feet. So it could've been called, but it wasn't obvious and it caused mass chaos on the basepaths."
Following the double play, Ryan Doumit drew a walk and Frieri struck out Chris Herrmann -- who hit a grand slam off of him Tuesday -- to end the game.
William Boor is an associate reporter for MLB.com. This story was not subject to the approval of Major League Baseball or its clubs.