Twins can't support Pelfrey's strong start vs. Angels
Twins can't support Pelfrey's strong start vs. Angels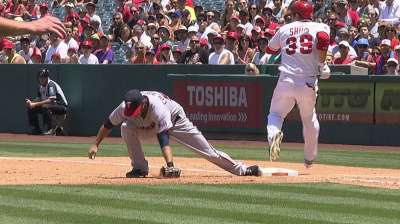 ANAHEIM -- For eight innings, the Twins couldn't do anything against Angels ace Jered Weaver.
They threatened in the ninth against closer Ernesto Frieri, who gave up five runs in the 10th inning of Tuesday's 10-3 win, but they were ultimately doomed by a freak play that wasn't ruled in their favor.
Justin Morneau popped into what could've been ruled an infield fly, but Frieri let it drop to turn a double play and was able to get out of the jam to hand the Twins a 1-0 loss on Wednesday afternoon at Angel Stadium.
"It was a judgment call with the infield fly," Twins manager Ron Gardenhire said. "They said the pitcher wasn't camped underneath it. But there's a reason he didn't camp underneath, and it's because he was going to let it fall. They also said it had to be 20 feet in the air, and I didn't have my tape measure out, but I'm guessing it went 20 feet. So it could've been called, but it wasn't obvious and it caused mass chaos on the basepaths."
Crew chief Ted Barrett, who served as third-base umpire, explained the ruling after the game.
"For an infield fly, we look for if the ball has arc and if the fielder can catch it with ordinary effort, and if the fielder gets comfortably underneath," Barrett told a pool reporter. "That one definitely had enough arc, but the fielder has to get comfortably underneath the ball to catch it. That's the criteria that wasn't met."
Frieri ran into trouble, walking Clete Thomas and hitting Doug Bernier with a pitch before Morneau hit a shallow popup right in front of the mound. But Frieri played back and let it drop to get Morneau at first and Bernier at second. Thomas advanced to third, but he was stuck there when Frieri struck out Chris Herrmann -- who hit a grand slam off him on Tuesday -- to end the game.
"As far as the reaction and the baseball IQ to make that play on the little popup, that's off the charts," Angels manager Mike Scioscia said about Frieri's play. "That's the way you talk about it, that's the way you practice it, but in such a key situation, to execute it sometimes it comes off different, but those guys were cool as a cucumber."
Twins starter Mike Pelfrey was solid, giving up just one run on five hits and a walk with five strikeouts. But it simply wasn't enough with the way Weaver pitched, as Pelfrey was tagged with the hard-luck loss.
"My fastball was really good and the velocity was there and the movement was there," Pelfrey said. "I was locating on both sides of the plate. If you go in to righties, then it opens it up to go away."
Weaver, who threw a no-hitter against the Twins last year at Angel Stadium, gave up a bloop single to Bernier in the first inning, but he didn't give up another hit until the eighth inning. Bernier, the second batter of the game, stole second after his single, but he was left on base when Morneau struck out and Ryan Doumit grounded out to end the inning.
Weaver went on to retire 19 straight batters after Bernier's single before walking Doumit with two outs in the seventh inning. But Doumit was stranded at first, as Weaver struck out Herrmann for his eighth strikeout of the day, which tied a season high.
Aaron Hicks got the second hit of the game for the Twins with a two-out single in the eighth. He stole second, but Weaver was able to freeze Pedro Florimon looking for his ninth strikeout.
"He kept of us off balance," Gardenhire said. "He changed speeds and moved the ball in and out. So he was pretty tough on us."
Weaver didn't get much run support, but the one run against Pelfrey in the first inning proved to be just enough. Pelfrey gave up a single to leadoff hitter J.B. Shuck, who stole second and then scored on a one-out single from Albert Pujols.
The loss kept the Twins from picking up their first three-game sweep since mid-June, but Minnesota has still won three straight series against the Yankees, Indians and Angels.
"It was a good series for us to take two out of three," Gardenhire said. "But it's disappointing today, because we had a chance at the end."
Rhett Bollinger is a reporter for MLB.com. Read his blog, Bollinger Beat, and follow him on Twitter @RhettBollinger. This story was not subject to the approval of Major League Baseball or its clubs.