Astros without Barnes, Martinez in finale
Astros without Barnes, Martinez in finale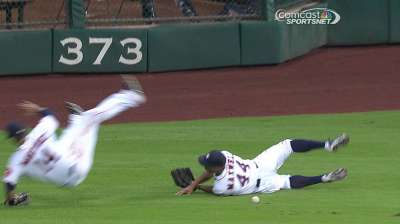 HOUSTON -- Brandon Barnes and J.D. Martinez left Tuesday's game with injuries and were not in Wednesday's starting lineup.
"Both of them are available, but they're not in the lineup," Astros manager Bo Porter said. "They're sore, obviously, from the different injuries sustained. So we're going to try to get them the day [off] and hopefully with treatment they'll be ready to go tomorrow."
Barnes injured his calf running the bases.
"I had to take myself out. I couldn't run. I didn't want to hurt the team in any way," Barnes said. "I want to be out there, but at the same time, I don't want to hurt the team. It's feeling a lot better today. Hopefully, taking the day off, I'll be ready to go tomorrow.
"We're going to take it day by day, but the way I feel right now, and if it heals like it did from last night to today, I should be ready to go tomorrow."
Porter said that Martinez, who sustained a left lower back contusion following a collision with center fielder Justin Maxwell, is feeling better than anticipated.
"I'd rather not play him and give it time to heal so that you don't have any setbacks once you do get back in the lineup," Porter said. "If pressed into it, I think J.D. could go before Brandon."
Glenn Sattell is a contributor to MLB.com. This story was not subject to the approval of Major League Baseball or its clubs.