Saunders roughed up, win streak snapped
Saunders roughed up, win streak snapped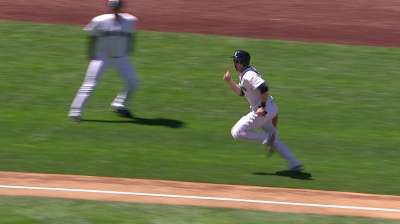 SEATTLE -- The soaring Mariners came back to Earth in inglorious fashion on Wednesday, as the Indians rolled to a 10-1 victory at Safeco Field, but the team's thoughts after the game were more on manager Eric Wedge than the end of an eight-game winning streak.
Wedge was released from the hospital after being diagnosed with a mild stroke, but missed his third straight game and isn't expected back for at least another 10 games.
Bench coach Robby Thompson will handle the team in Wedge's absence and met with the players after Wednesday's game, along with general manager Jack Zduriencik, to deliver the news.
"I take a deep breath because of my concern for Eric," Thompson said. "We will continue focusing on our job as a staff and their jobs in the clubhouse as players, which we hit on a little in the meeting. They'll bounce back, they'll think about it tonight in their prayers and come back in tomorrow.
"They did a great job with the eight-game winning streak. They played well, they played hard, they played good baseball. We'll throw this one out the window and hopefully start it again tomorrow."
Michael Bourn's grand slam in the fifth capped Cleveland's convincing victory, as the Indians prevented Seattle from reaching its longest win streak since 2003.
After leading the Majors in scoring in July, the Mariners were held to one hit for eight innings by southpaw Scott Kazmir before Nick Franklin singled off reliever Vinnie Pestano in the ninth in a quiet day in front of 25,688.
The Mariners have still won three straight series and 13 of their last 19 games and stand 48-53 going into a four-game set with the Twins.
Starter Joe Saunders lasted only 4 2/3 innings, giving up nine hits and six runs (five earned) as he saw his own four-game win streak come to an end. Saunders is 9-9 with a 4.48 ERA and his once-sterling home record has dipped to 5-4 with a 3.62 ERA.
The veteran lefty felt he threw better than the results indicated.
"I felt good. I felt like I made some good pitches," Saunders said. "They put some good swings on some good pitches. I tried to keep the team in there as long as I could. I felt like I was around the plate. We just got flat out outplayed, out-pitched, out-hit. It was just one of those days."
Reliever Hector Noesi did little to stem the tide, giving up Bourn's slam after replacing Saunders in the fifth and then a solo blast to Asdrubal Cabrera in the sixth.
"To be honest with you, I saw a good pitch out of his hand," Bourn said. "I was able to put the barrel on the ball. I really wasn't trying to do too much, but I guess that's when it normally happens. That was all I was trying to do -- put the bat on the ball."
Seattle's offense managed only an unearned run off Kazmir in the second, and didn't get a hit until Justin Smoak's leadoff single in the fifth.
"This was just one of those games," said Smoak. "It's baseball and it's going to happen. We've had a good run here. You tip your cap to Kazmir today. He had great stuff. But as long as we keep putting things together, we'll be OK. We've been pitching well, hitting well and playing good defense. The more you do that, the more games you're going to win."
Kazmir improved to 6-4 with a 3.96 ERA, and was a far better pitcher than Seattle knocked out in three innings in Cleveland two months ago. He allowed two walks and struck out seven.
"He was a different pitcher than in Cleveland," Thompson said. "He looked like he was the old Kazmir. He had great life on his fastball -- location and command of it -- and that made his secondary stuff even better. His velocity was way up, probably 4-5 mph from when we saw him before."
On the flip side, the Mariners were trouble from the get-go, as Saunders gave up three runs in the first when Cabrera ripped a two-run double and scored on Carlos Santana's two-bagger.
The Mariners got one run back in the second on an error by Cabrera, who hooked a throw to second on what should have been a fielder's choice force on Jason Bay. Instead, the ball rolled all the way to the right-field line as Bay raced home.
But Seattle's defense returned the favor in the third when Cabrera reached on a two-base error on center fielder Michael Saunders, who couldn't track a line drive in the tough early afternoon sun, then scored on another RBI double by Santana for a 4-1 lead.
Joe Saunders got out of a one-out, bases-loaded jam in the fourth without allowing a run, but was replaced in the fifth when a pair of two-out singles hiked his pitch count to 104. Noesi then walked the first batter he faced before giving up Bourn's third home run of the year.
"This game is tough," Joe Saunders said. "We didn't get the breaks today. But now it's another opportunity to start another streak."
Greg Johns is a reporter for MLB.com. Follow him on Twitter @GregJohnsMLB as well as his Mariners Musings blog. This story was not subject to the approval of Major League Baseball or its clubs.