Chisenhall not worried about recent errors
Chisenhall not worried about recent errors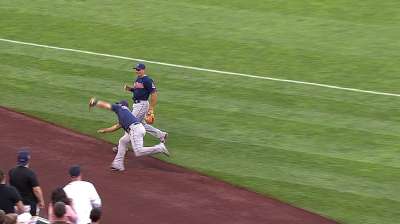 SEATTLE -- Lonnie Chisenhall is just chalking it up as a bad week. The young Indians third baseman does not believe the assortment of defensive miscues over the past several days are a sign of a larger problem.
Chisenhall said errors simply come with the territory down the third-base line.
"I feel fine. Third base is a tough position," Chisenhall said on Wednesday morning. "You're going to get errors that you don't have any control over. Some balls are going to hit off your shoulder. Balls are going to hit off your shins. You can't control a lot of that stuff.
"I'll go out there and continue to take my ground balls and get my work in."
Chisenhall was charged with two errors -- one on a missed catch in foul ground in the first inning, and another on a throw to first base in the second -- during Cleveland's 4-3 loss to the Mariners on Tuesday night. That gave the third baseman four errors in four games played on the Tribe's current six-game road trip.
There has not been one specific area ailing Chisenhall, either.
"Two were grounders. One's a popup. One's a throw," Indians manager Terry Francona said. "They're all different. I think that it's just staying ahead of the game. I think the best way to be a good defender is not to just react, but to stay ahead so the game doesn't speed up."
The 24-year-old Chisenhall is one of eight third basemen in the American League with at least eight errors, entering Wednesday. Among that group, he had the fewest total chances (114) and the lowest fielding percentage (.930). In 81 defensive chances at Triple-A earlier this season, Chisenhall was also charged with eight errors.
Francona said none of this has shaken the Indians' belief that Chisenhall has the potential to be a standout third baseman. The manager noted that Chisenhall is still young, and Cleveland is trying to balance his development as a hitter and defender while also trying to win.
"Our organization thinks this kid is going to be a good player, and I agree," Francona said. "He hasn't even tapped into what he's going to be. That's what's exciting. There's some things in there that nobody's seen yet. ... When it happens, it's going to be exciting. And I don't want to get in the way of that."
Chisenhall didn't play in Wednesday's 10-1 win over the Mariners, but the Indians made two errors, giving them nine on the six-game road trip. Asdrubal Cabrera's throwing error led to a run in the second, and Mark Reynolds, who platoons with Chisenhall at third, also had a throwing error.
Jordan Bastian is a reporter for MLB.com. Read his blog, Major League Bastian, and follow him on Twitter @MLBastian. This story was not subject to the approval of Major League Baseball or its clubs.