Strasburg whiffs 12 in gem, but Nats' skid reaches six
Strasburg whiffs 12 in gem, but Nats' skid reaches six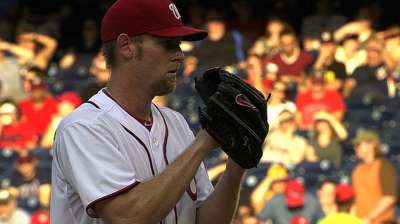 WASHINGTON -- The Nationals continue to have problems offensively, losing to the Pirates, 4-2, at Nationals Park on Wednesday night.
The Nationals have lost six straight games, 11 out of 13 and are nine games behind the first-place Braves. The Pirates won the four-game series by winning the first three games.
Pirates left-hander Francisco Liriano was outstanding, pitching 7 2/3 innings and allowing just two hits. He took a no-hitter into the sixth, when third baseman Pedro Alvarez dove but couldn't snare a two-out, hard-hit liner by Anthony Rendon. Ryan Zimmerman followed and walked to put runners on first and second, but Jayson Werth struck out looking to end the threat.
"My scouting report was, if [Liriano] is on, he is going to be tough to hit," said Nationals outfielder Denard Span, who played with Liriano on the Twins. "He can be erratic at times. But he was in the strike zone, spotting his fastball. It makes his slider that much better. That's pretty much what he did today."
Washington also threatened in the eighth. The Nats had a runner on second with one out, but Scott Hairston struck out looking. Liriano was replaced by left-hander Justin Wilson, who induced Rendon to pop out to first baseman Gaby Sanchez for the third out.
Nationals right-hander Stephen Strasburg had the misfortune of losing his eighth game of the season. He pitched eight innings, allowed one run on two hits and struck out 12, a season high. It was Strasburg's first double-digit strikeout total this season. He also threw a season-high 118 pitches.
The one run off Strasburg came in the second, when Alvarez hit a home run over the left-center-field wall, his 26th of the season.
Pirates manager Clint Hurdle was impressed by what he saw from Strasburg.
"After Pedro hit the ball, [Strasburg] just said, 'You're done.' There's so much there," Hurdle said. "We were aware he's probably using his changeup more. But the combination of that curve, that changeup, as good as it was to both right and left-handed hitters. And to still get 97-98 mph, whenever he wants it. He struck [Andrew] McCutchen out on 3-2 changeup. Who's going to look for 3-2 changeup off Strasburg? He really pitched efficiently."
Strasburg was dominating from the third inning until he left the game. But he wishes he could get his mechanics straightened out at the beginning of the game.
"It's a battle about mechanics all year," Strasburg said. "But for some reason, it just clicks later on every time out. I'm waiting to have the same kind of control I do late in the game from the first pitch on. I just made one bad pitch. [Alvarez] put a pretty good swing on it and that was that."
Reliever Drew Storen entered in the ninth and was knocked around a bit, allowing an RBI double to Neil Walker.
Storen was charged with two more runs when Fernando Abad allowed a two-run single to Michael McKenry. In the inning, Storen threw 26 pitches.
"He left the ball up. When he doesn't keep the ball down -- the first three hitters, the fastball is up and out over the plate," manager Davey Johnson said about Storen. "He got better toward the end, but I didn't like the matchup against the left-hander. I still haven't lost all confidence [in Storen]. I still think he could be very productive."
During July, Storen has allowed eight runs in 8 1/3 innings and has seen his ERA soar to 5.40. Asked if Storen needed to straightened things out in the Minor Leagues, Johnson hesitated and said, "There are not a lot of better options right now as far as I'm concerned. You try to do everything you can to make it easy for them to do the things they are capable of doing. I felt if we stayed close, he can hold them close. We would be in good shape."
But the Nationals were not in good shape. They were down by four runs when Werth hit a two-run homer off Wilson in the bottom of the ninth.
After Wilson Ramos singled with one out off closer Mark Melancon, Span came to the plate and hit a slow roller to second baseman Neil Walker, who tried unsuccessfully to tag Ramos as he was running to second base, but Walker was able to get Span at first. A few seconds later, second-base umpire Laz Diaz ruled that Walker tagged Ramos to complete the double play. Diaz wasn't available for comment.
"It wasn't even close," Ramos said. "[Diaz] said [Walker] tagged me. [Diaz said], 'I didn't hear it, but I saw it.' I said, 'You didn't see anything. It's not even close.' Maybe he wanted to go home."
The Nationals hope to salvage the finale of the four-game series Thursday in a 12:35 p.m. ET affair at Nationals Park.
Bill Ladson is a reporter for MLB.com and writes an MLBlog, All Nats All the time. He also could be found on Twitter @WashingNats. This story was not subject to the approval of Major League Baseball or its clubs.