Power bats back Kazmir's stellar start
Power bats back Kazmir's stellar start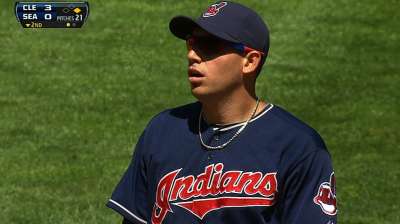 SEATTLE -- Scott Kazmir saw Indians manager Terry Francona coming from the other side of the dugout. The customary outing-ending handshake was inevitable, so the pitcher headed down the steps and ran into the tunnel.
Kazmir did not want to come out of Wednesday's game.
"I was just playing with him," Kazmir said with a smile.
Kazmir was toying around with plenty of people. In the finale of what had been a rough road trip, the left-hander had his way with the Mariners lineup, guiding Cleveland to a 10-1 rout that served as a sigh of relief for the Tribe. After four one-run losses in five games, heading home on the heels of a blowout victory had the men laughing and the music blasting in the clubhouse.
The Indians offense woke from its recent slumber with an outburst highlight by the first grand slam of Michael Bourn's career. The swift center fielder also opened the game with a bunt single to ignite a three-run rally and made a nice catch on a Kyle Seager liner. Finally, the breaks that had gone against the Tribe were causing fits for the other side.
It was the kind of afternoon that makes for a happy flight home.
"That was much-needed and a good day," Francona said. "It's just nice to bounce back, because we had a couple tough ones. It was good to see our guys see some results."
The starting pitching that has been sharp lately for the Indians was out in force once again.
For the first time in his career, Kazmir allowed only one hit in eight innings. He did so with a fastball that sat in the 92-96 mph range throughout his outing and an effective mix of sliders, changeups and cutters. The result was a Seattle lineup that looked overmatched and perplexed.
Kazmir (6-4) created 13 outs via ground balls, ended with seven strikeouts and navigated his way around a pair of walks. The lone hit off him was a leadoff single to Justin Smoak in the fifth.
The Mariners lit up Kazmir for five runs in three innings on May 20, but that might as well have been years ago.
The pitcher's latest performance halted Seattle's eight-game winning streak.
"He was a different pitcher than in Cleveland," said Mariners bench coach Robby Thompson, who has been filling in for Eric Wedge while the manager recovers from a mild stroke. "He looked like he was the old Kazmir. He had great life on his fastball, location and command of it."
The old Kazmir?
That is not how the pitcher sees things.
"I'm even better than that. Way better than that," Kazmir said. "I just feel like more of a complete pitcher now. I'm not just throwing it as hard as I can every single time out there. I have it still, but I throw it when I need to and I'm able to use all my secondary pitches."
The "old" Kazmir was a young strikeout artist for Tampa Bay years ago thanks to a power fastball and slider. The improved, varied pitches -- honed over the past year as the left-hander climbed out of obscurity and back into a big league rotation -- have turned Kazmir into one of the game's more interesting comeback stories this season.
Over his past seven starts dating back to June 21, Kazmir has gone 3-0 with a 1.60 ERA in 45 innings, during which he has piled up 35 strikeouts with only 23 hits and 12 walks allowed. Against Seattle, the lone run he surrendered was unearned, thanks to a throwing error by shortstop Asdrubal Cabrera in the second inning.
Cleveland (53-48) committed two errors in the game, upping the team's total to nine on the six-game road trip. But the offense more than made up for it this time around.
Cabrera delivered a two-run double off Seattle lefty Joe Saunders in the first inning, and added a solo home run off reliever Hector Noesi in the sixth. Carlos Santana ended the day with three hits, including a pair of run-scoring two-base hits. Bourn provided the biggest blow, launching a 3-2 pitch from Noesi into the right-field seats in the fifth for a grand slam that put the Tribe up 8-1.
"I was able to put the barrel on the ball," said Bourn, who has three home runs this season. "I really wasn't trying to do too much, but I guess that's when it normally happens. That was all I was trying to do -- put the bat on the ball."
That had been a problem of late for Cleveland.
In the four losses on the road trip -- each by one run -- the Indians scored a combined eight runs. The rotation held up its end of things, posting a 1.47 ERA in the two-city swing through Minnesota and Seattle, but the Indians only managed a 2-4 record on the first trip of the second half.
Needless to say, this win was welcomed with open arms.
"The one-run ballgames have been tough for us," Kazmir said. "To be able to pull out this one, it was huge for us."
Kazmir will just have to wait a little longer for permission to go for a complete game.
"That would've been more managing with my heart than my brain," Francona said. "But I think he could've gone out and got them out."
Jordan Bastian is a reporter for MLB.com. Read his blog, Major League Bastian, and follow him on Twitter @MLBastian. This story was not subject to the approval of Major League Baseball or its clubs.