Liriano outduels Strasburg as Pirates fend off Nats
Liriano outduels Strasburg as Pirates fend off Nats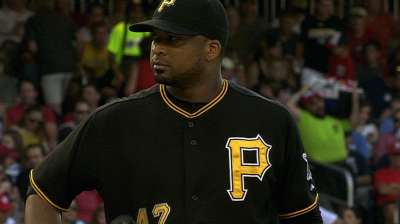 WASHINGTON -- It would appear that all the Chicken Littles can remove the hard hats, for the time being at least. The sky is not falling on their Pirates. No more than base hits are falling around their starting pitchers.
The Bucs reclaimed their season peak of 21 games above .500 on Wednesday night with a 4-2 victory over the Nationals.
Is this Pittsburgh team really 60-39? Yep, as sure as Pirates fans stirred Nationals Park with exhortations of "Let's go, Bucs!" that bounced off the emptying seats deep into the night.
"Yeah, that was very impressive," Neil Walker said of the way the 'Burgh Bunch made itself heard in the crowd of 33,636. "They showed up in full force, no doubt about that."
So did their team, to win the game in stages. First, Francisco Liriano pitched Stephen Strasburg to essentially a standoff. Then the Pirates typically jumped Strasburg's relief for three runs in the ninth. And after half of a 4-0 lead was wiped out by Jayson Werth's two-run homer off Justin Wilson, Mark Melancon entered to convert his first save opportunity since officially becoming Jason Grilli's double.
Not that it was simple. Please. These are the Pirates. With one out, Wilson Ramos singled under Walker's glove. Denard Span followed by bouncing into … a game-ending double play?
Walker fielded the grounder in Ramos' path and went to tag him before throwing to first to retire Span. Walker's tag attempt wasn't even close, but second-base umpire Laz Diaz ruled Ramos out.
The obvious conclusion to draw in such cases is that the runner was considered to have run out of the baseline, and everyone sees it the same way. However, Ramos did not appear to stray, Pirates manager Clint Hurdle had no idea what had happened, and Nats skipper Davey Johnson was explaining that he had been told by Diaz that Walker had indeed tagged his runner.
"He told me, 'He tagged you. I don't hear, but I saw it,'" Ramos explained -- or tried to. "I said, 'Sure, you didn't see anything. Not even close.' But I don't know, maybe he want to go home."
Far clearer was the fact that Liriano became the second Pittsburgh starter in as many nights to pitch two-hit ball deep into the game.
Liriano held Washington hitless until Anthony Rendon's infield single with two outs in the sixth, and departed after 7 2/3 innings and two hits.
The previous night, Gerrit Cole had pitched two-hit ball through seven innings of the Bucs' 5-1 win.
"We got the 'W.' That was the most important thing for me," Liriano said after picking up his 10th win. "I felt great out there but, no, I wasn't thinking about any no-hitter. I was thinking about winning the game."
Once again redefining the concept of doing the most with the least, the Bucs reached 60 wins with a modest attack, this one certainly understandable given the opposition of Strasburg on one of his very good days.
The Bucs had two hits in the second, including a Pedro Alvarez liner into the right-center seats for his 26th homer of the season, and nothing else while Strasburg ruled the mound.
"After Pedro hit the ball out, Strasburg just said, 'You're done,'" said Hurdle, and he meant that quite literally.
Travis Snider did single one out after the Alvarez homer. But after that, Strasburg retired 20 of his last 21 men, only a fielding error interrupting the streak.
With reliever Drew Storen on in the ninth. Starling Marte singled and scored on Walker's double to budge the Bucs off that 1-0 lead they'd protected since the second. Later, Michael McKenry's two-run single off Fernando Abad again doubled the lead, that time to 4-0.
It was dual masterpieces, this duel between a resurgent veteran left-hander and a young right-handed gun.
Strasburg accentuated his eight-inning two-hitter with 12 strikeouts, going double-digits for the first time this season and the ninth time in his career. The first of those nine came in his big league debut, on June 8, 2010, against these same Pirates.
Well, not exactly the same Pirates. Those Pirates went on to have 57 wins at the end of the season. These Pirates are already three victories better.
The gem buster was a convoluted bit of baseball drama. Rendon smoked the ball. Alvarez smothered it with a dive, the first part of a potentially sensational play.
But when the ball squirted out of Alvarez's glove, and his hasty attempt to regain control of it only led to the ball drifting even farther from him, there was nothing for the official scorer to do than immediately declare, "Base hit!"
Liriano followed by issuing his third walk of the game, to Ryan Zimmerman, but chased any notion of a meltdown by coming back to throw a called third strike past Werth.
He then worked a routine three-up, three-down seventh inning.
Risking being called a two-timing slugger by Cole, Alvarez had given Liriano a 1-0 lead with a solo homer in the second. The night before, Alvarez had homered for the fifth time in Cole's seven starts to contribute to that 5-1 win.
Alvarez's 26th of the season tied him for the National League lead with Colorado's Carlos Gonzalez -- the man whom he had replaced in last week's All-Star Chevrolet Home Run Derby.
That was not the only thing that lifted Alvarez's latest home run above routine. His liner seemed headed for an imaginary bull's eye on the wall -- but refused to give in to either gravity or the wind.
"Gave me goose bumps," Hurdle admitted. "The wind's blowing in ... when that ball is hit, I'm thinking, 'OK, he's on second.' Then I see some fans stand up and I go, 'Wait a minute ...' I see Span just shut it down. The ball just finished … a backspin two-iron.
"I've seen a lot of home runs. A lot of hard-hit balls. But that one definitely got my attention."
Tom Singer is a reporter for MLB.com and writes an MLBlog Change for a Nickel. He can also be found on Twitter @Tom_Singer. This story was not subject to the approval of Major League Baseball or its clubs.