Wood runs out of gas in sixth against D-backs
Wood runs out of gas in sixth against D-backs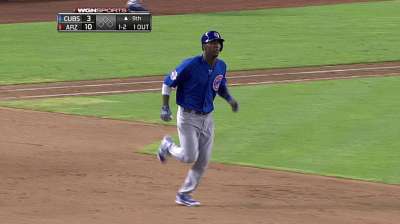 PHOENIX -- Travis Wood is growing his beard back but the lack of facial hair wasn't the reason he lost Tuesday night.
For just the third time in 20 outings this season, Wood failed to record a quality start. Martin Prado hit a game-tying home run and A.J. Pollock drove in three runs to help Patrick Corbin win his 12th game and power the D-backs to a 10-4 victory over Wood and the Cubs.
Wood was vying for his 18th quality start, and had a tough opponent in the D-backs and Corbin, who was the Cubs' lefty's teammate on the National League All-Star team. This was the second time this season that two All-Stars squared off in their first starts after the break.
Corbin served up one run on four hits over six innings, while Wood was charged with four runs over 5 2/3 innings.
"We were rolling pretty good," said Wood, who retired the first nine batters he faced. "Other than the pitch to Prado that he ended up hitting out, the first five [innings] were pretty good. Unfortunately, they kind of figured me out in the sixth and were able to put up three more."
Wood, who began the day tied with Clayton Kershaw and Adam Wainwright for the NL lead in quality starts, also failed to post a quality start in his last outing before the All-Star break on July 14 against the Cardinals. His only other non-quality start was May 25 against the Reds.
Arizona, which won for the second time in its past six games, is trying to keep pace with the Dodgers in the NL West.
Wood helped himself when he singled to lead off the third, and moved up one out later when Starlin Castro walked. Wood then scored on Anthony Rizzo's single.
Then the fireworks came. Cody Ransom was called out to end the third, flipped his bat and helmet, then tossed his batting gloves. Apparently, Dale Sveum said something from the Cubs dugout that home plate umpire Dana DeMuth didn't like, and was ejected. Sveum ran onto the field to argue, and after what seemed like a heated discussion, the two appeared to be laughing as they parted. It was Sveum's fourth ejection of the season.
"I didn't quite like the way he handled staring at Cody and following him," Sveum said. "It was over with. He didn't need to keep staring at my player and baiting him."
Why were they laughing at the end?
"Yeah, I was," Sveum said. "It was funny what he said."
Sveum didn't share that part of the conversation.
The Cubs manager has had some interesting run-ins with umpires. On Sept. 5 in Washington, Sveum said he'd had enough of umpire Larry Vanover "eyeballing" him in the dugout, and that led to his ejection in the fifth inning.
It wasn't a good night for Ransom, period. He struck out three times and came up in the fifth with the bases loaded and two outs, and lined out to shortstop Didi Gregorius.
Prado tied the game with one out in the D-backs' fifth on his ninth home run, launching an 0-2 pitch from Wood into the left-field seats.
Adam Eaton singled to start Arizona's sixth and scored on Pollock's double down the left-field line. Two outs later, Eric Chavez tripled off the center-field wall, driving in Pollock. One batter later, Wil Nieves hit an RBI single to chase Wood and make it 4-1.
"He's a tough pitcher, he comes in on you hard," Pollock said of Wood. "Thankfully, we strung together some good at-bats against him later on and it worked out for us."
"The biggest thing was not being able to put Chavez away," Sveum said. "I think that was the big at-bat of the game. Obviously, he was really sharp early. He tried throwing four-seamers in, and it got him in trouble with Prado [in the fifth]."
Wood, who shaved his beard for the All-Star Game, saying he wanted a fresh start, and Jeff Samardzija now find themselves to be key pieces in the Cubs' rotation following the trades of Scott Feldman and Matt Garza.
"When you lose a piece like Garza, hopefully, me and Samardzija can take over and do everything we can, and the other guys can continue to do what they're doing," Wood said. "[Chris] Rusin threw a great game [Monday]. We'll just keep grinding."
After Arizona added three more runs in the seventh, the Cubs chipped away. Pinch-hitter Nate Schierholtz delivered a two-run homer in the eighth and Junior Lake kept up his hot streak with a solo shot with one out in the ninth. Lake now has 12 hits in his first five games and is batting .545.
"He's playing as well as anybody can imagine," Sveum said. "Every at-bat has been quality and getting good pitches. Right now, he looks really, really good. He looks like he likes this stuff and performs better at this level."
Whether Lake will lead off against right-handed pitchers is still to be determined. David DeJesus, who has been sidelined since he sprained his right shoulder on June 14, could be activated from the disabled list as early as Wednesday. DeJesus has played three games with the Cubs' Rookie League team in Arizona.
"If DeJesus isn't ready to come back, then I'll just leave [Lake] there," Sveum said. "I'm not going to argue with seven hits in the leadoff spot with a couple homers."
Carrie Muskat is a reporter for MLB.com. She writes a blog, Muskat Ramblings, and you can follow her on Twitter @CarrieMuskat. This story was not subject to the approval of Major League Baseball or its clubs.