Offense keeps quiet in loss to Miami's youngsters
Offense keeps quiet in loss to Miami's youngsters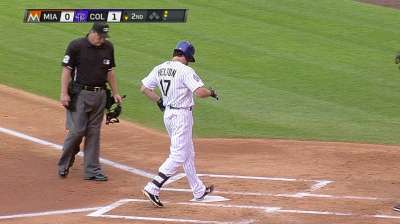 DENVER -- It's all backwards for the Rockies these days.
Decent-to-excellent pitching is being undermined by unproductive hitting. The latest example was Tuesday night, when the touted offense produced only a Todd Helton second-inning home run and an RBI groundout in a 4-2 loss to the Marlins at Coors Field in front of 34,223.
The Rockies (48-53), who have three All-Star Game starters in their lineup but dropped below the Marlins and into last place in the Majors in runs scored this month with 53, simply can't afford this pattern. They fell to five games behind the National League West-leading Dodgers and are 2-3 on a 10-game homestand that was supposed to offer a prime chance for momentum.
"This is not the time to be going through this, it's the worst time," Helton said. "We have to figure this out collectively. We have to figure out how to grind out at-bats. At the beginning of the year, we did a better job of making the pitcher work harder. We need to get back to that."
Rockies starter Jhoulys Chacin (9-5) battled after being hit on the inner left thigh with a line drive in the fifth inning and gave up three runs in seven innings. He wound up with his second loss in his last seven decisions, and the team took just its third loss in his last 10 starts.
"They gave me the lead and I couldn't hold it, so I didn't feel like I did my job," Chacin said. "When they gave me the lead, I tried to go from there. But that's how the game went -- some bloopers, some ground balls, and that was the game."
Marlins 20-year-old All-Star Jose Fernandez (6-5) continued his hot rookie year by striking out eight while yielding two runs on five hits in seven innings. But this month, the Rockies have been shut down by veteran Cy Young candidates; Minor League veterans, such as the Marlins' Tom Koehler in a 3-0 loss Monday night; callups and up-and-comers.
Carlos Gonzalez, who went 0-for-3 with a ninth-inning walk Tuesday, has had enough.
"Fernandez pitched really well, he battled the whole game, but it's unacceptable," said Gonzalez, who joined Troy Tulowitzki and Michael Cuddyer in the NL starting lineup in last week's Midsummer Classic. "We should be better. We should score more runs. I don't think our focus was the same tonight and the game got away."
Instead of the Rockies finding their effectiveness, they watched as the Marlins displayed some talented youth, especially Fernandez and outfielder Christian Yelich, Miami's top-ranked prospect who had three hits and drove in two runs in his Major League debut.
"You can think about it and dream about it all you want, but going out there and actually living it and being able to be a part of something like this is pretty special," Yelich said.
The homer into the second deck in right by Helton was the 361st of his career, which tied him with Joe DiMaggio for 76th all-time.
"It's very cool, absolutely," Helton said. "Any time you are mentioned in the same sentence with those guys, or you tie one of their records, it's a big deal."
Fernandez admitted the 39-year-old Helton taught him a lesson.
"I'm thinking, yeah, this guy, he's kind of old, I know he can hit, so maybe I got a shot to blow by him ... blow by him in the second deck," Fernandez said, laughing. "Sorry about that. That was pretty funny. That's why when I came into the dugout, I was kind of laughing."
But Fernandez otherwise controlled the evening, surrendering his only other run on a Gonzalez groundout after DJ LeMahieu's triple to open the sixth.
"He's a talented kid," Rockies manager Walt Weiss said. "He's got a good arm."
LeMahieu led off the Rockies' fourth with a single and the Rockies had two on with one out after a Tulowitzki base hit, but Fernandez fanned Cuddyer and Helton.
"Fernandez was tremendous, pitched a great game, gave us everything he had in a place that sometimes can be really tough to pitch in," Marlins manager Mike Redmond said.
In the fifth, Nolan Arenado singled and Chacin drew one of the two walks Fernandez issued. But speedy Dexter Fowler, who fouled off a surprise bunt attempt, grounded into an inning-ending double play. It was just the fourth time this season and 24th time since his 2008 debut that he has hit into a double play.
"That's how it's been for me the past two days, I guess," Fowler said. "I squared up three balls yesterday and had nothing to show for it. Today, I hit the ball hard, right to somebody. That's the way it's been going.
"We got eight hits yesterday and didn't have anybody on base."
The Marlins' Giancarlo Stanton homered deep into the left-field bleachers off reliever Josh Outman in the eighth. Marlins closer Steve Cishek earned his 19th save, working around a leadoff walk to Gonzalez and the outfielder's 19th stolen base.
Thomas Harding is a reporter for MLB.com. Read his blog, Hardball in the Rockies, and follow him on Twitter @harding_at_mlb. This story was not subject to the approval of Major League Baseball or its clubs.