Nathan's rare lapse costs Rangers vs. Yanks
Nathan's rare lapse costs Rangers vs. Yanks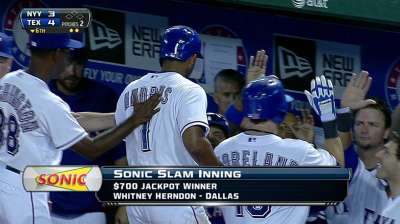 ARLINGTON -- Joe Nathan has been one of the best closers in baseball this season, but the ninth inning slipped away from him in the Rangers' 5-4 loss to the Yankees on Tuesday at Rangers Ballpark.
The All-Star closer blew his second save this season, snapping a streak of 15 consecutive successful conversions. Nathan lasted two-thirds of an inning and yelled at home-plate umpire Kerwin Danley as he walked to the dugout. Nathan appeared to be frustrated with the strike zone, walking Vernon Wells on five pitches with one out. His last four pitches of the plate appearance were called balls.
"That's all you can want as a pitcher, as a player and as a guy calling balls and strikes, is consistency so we know we have an idea where that zone is," Nathan said. "Today was just one of those days where I saw it called strikes throughout the day and called balls [in the ninth], obviously. Today was a little tougher day to figure out where the zone was. That's no fault to [Danley]. It's a tough gig back there to call balls and strikes, especially when it's a game of inches."
Nathan threw a wild pitch on a 2-2 offering to Eduardo Nunez, slipping while landing on his left leg. Wells advanced to second on the wild pitch, then scored as Nunez stumbled into third with a triple. Craig Gentry dove into the center field wall but was unsuccessful in his attempt to make a catch.
"The only thing I wish I could take back is that one that I slipped on," Nathan said. "It was a big one in the inning, a 2-2 pitch that, I think if I make a better pitch there, it at least sets up something better for the 3-2 count. I don't think he's going to chase a 30-footer after I slip and was laying on the mound."
The run broke a streak of 25 1/3 consecutive scoreless innings by the Rangers' bullpen over seven games. Brent Lillibridge followed Nunez's triple by giving the Yankees a lead they would keep with a single to left field, scoring Nunez. Nathan then forced Melky Mesa to ground out to third, but the right-hander was subsequently relieved by Robbie Ross, who forced pinch-hitter Travis Hafner to ground out to shortstop to end the inning.
Mariano Rivera entered in the ninth with a shut-down inning to record his 32nd save this season. The debate over strike calls continued when Leonys Martin pinch-hit for Gentry with one out. Ahead, 1-0, Martin looked at three consecutive cutters that were called strikes but appeared to be outside the strike zone.
"Joe Nathan, we're going to run him out there again tomorrow if we get that opportunity," said Mitch Moreland, whose sixth-inning homer gave the Rangers a short-lived 4-3 lead. "He's one of the best that's ever been. In my opinion, we've got two of the best that's been closers in this game here right now [with Rivera]. Their numbers and what they've done have shown it. It just didn't happen tonight, but [Nathan] is really good. He's out there every time if I have a chance to play behind him."
Entering Tuesday, the Rangers were 51-0 this season when leading after eight innings. They've now lost five of their last six but remain three games behind the American League West-leading A's, who lost to the Astros, 5-4.
"Any time we put Joe out there, we figure the game is over, but he's only human," Rangers manager Ron Washington said. "He saves a lot of games for us, but we just didn't get that one shut down tonight."
Moreland's two-out, two-run homer to center field came off reliever Boone Logan. Since being activated from the 15-day disabled list on June 21, Moreland had been hitting .179 until his 14th home run of the season.
"I'm still trying to go up there and stick to my plan and get a good pitch," Moreland said. "That's my main goal right now, just try to make something happen, create some opportunities and try to help the team win."
Moreland's homer was the only earned run of the inning for Texas. The other three were charged to Phil Hughes, who surrendered four hits in 5 2/3 innings, walking three and striking out one.
Nelson Cruz was first to reach in the inning, smacking a one-out grounder that brushed off Lillibridge's glove at third base for an error. Cruz scored one batter later when Adrian Beltre doubled. Elvis Andrus then trimmed the deficit to 3-2 with an RBI single to right field, recording his fourth RBI this month and paving the way for Moreland's go-ahead drive.
"It was within reach of me, and I should have made the play," Lillibridge said. "As a defensive player, I expected to make the play. I wasn't frustrated or mad at all that it was an error because I felt like I should have made the play in the first place."
Rangers starter Alexi Ogando managed to pitch five innings in his return from the disabled list, where he spent time with right biceps tendinitis. The right-hander allowed three runs on six hits, throwing 78 pitches. He allowed back-to-back doubles to the bottom two hitters in New York's lineup, Mesa and Austin Romine, to start the third. Mesa scored on Romine's double, and Ichiro Suzuki plated Romine on a single to give the Yankees a 2-0 lead.
Ogando finished his outing with a flourish, retiring the Yankees in order in the fifth on 10 pitches. Afterward, the right-hander said he thought he was going to pitch deeper than he did, but Washington turned to his bullpen in the sixth, receiving three scoreless innings from Ross Wolf, Jason Frasor and Neal Cotts.
"[Ogando] gave us five innings of stressful pitching," Washington said. "He had to battle to get through five. We felt like after he got us through the fifth, which it looked like he got a little stronger, that's all we needed. The bullpen came in and held us there until we were able to take the lead. At the end, we just couldn't put it away."
Master Tesfatsion is an associate reporter for MLB.com. This story was not subject to the approval of Major League Baseball or its clubs.