Nunez keys Yanks' winning rally vs. Nathan
Nunez keys Yanks' winning rally vs. Nathan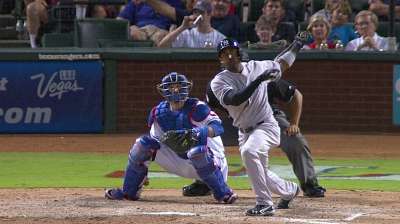 ARLINGTON -- The game-tying triple off Eduardo Nunez's bat was accompanied by a spirited laugh track from the dugout, and Brent Lillibridge's go-ahead single was delivered with a healthy serving of redemption.
These were the ingredients of what Brett Gardner summed up as "a great win -- biggest one of the year," and his teammates had no debate. Two ninth-inning runs toppled All-Star closer Joe Nathan as the Yankees stole a 5-4 win over the Rangers on Tuesday.
"It feels great, you know?" Nunez said. "We've had a lot of bad things this year. Now, I want to come back to play better. I think it's a great feeling for me and my teammates so I can help the team to win."
Down to their final two outs, the Yankees sparked to life as Vernon Wells worked a five-pitch walk, then trotted to second base as Nathan stumbled mid-delivery and uncorked a wild pitch to the backstop.
Nunez then slugged a deep drive to the center-field wall, scoring Wells easily. As he rounded second base, Nunez started to think about an inside-the-park homer and lost his footing himself, eventually belly-flopping awkwardly -- but safely -- into third base.
"I was looking at the ball, and I thought it could be a home run," said Nunez, who was razzed loudest by Robinson Cano and Derek Jeter for his lack of grace. "I thought too much."
That brought up Lillibridge, who had committed a fielding error at third base that opened the door for a four-run Rangers sixth inning. Lillibridge took advantage of his chance, lining a bullet into left field that gave the Yankees the lead.
"I saw something big for me, a slider that was big enough to swing at, and I was able to drop it into left field," Lillibridge said. "You ease a tough start of the day and finish strong."
The late lead was improbable, considering that Rangers pitchers had retired 15 straight Yankees before Wells' walk. Mariano Rivera picked up his 32nd save, preserving a win for Joba Chamberlain after a scoreless eighth inning, helped by Gardner's terrific catch to take a hit away from Elvis Andrus.
"Any time we put Joe out there, we figure the game is over, but he's only human," said Rangers manager Ron Washington. "He saves a lot of games for us, but we just didn't get that one shut down tonight."
The rally was a welcome sight for Yankees starter Phil Hughes, who had sat forlornly in the dugout with a towel wrapped around his neck while his lead slipped out the door, with three unearned runs going on the right-hander's ledger.
"It's a huge swing, for sure, going from having a three-run lead and then giving it away," Hughes said. "It could have been a bad night for us, but to get this win was big. Hopefully it gives us some momentum going forward."
Playing third base in place of the injured Luis Cruz, Lillibridge started the trouble by booting a hot Nelson Cruz grounder. Adrian Beltre followed with a run-scoring double to center field, and Andrus smacked a two-out RBI single to draw Texas within a run.
"It's amazing how baseball sometimes works, where that random error, all of a sudden things start falling apart," Lillibridge said. "I was glad we were able to hold it close and get an opportunity late against a great closer."
Hughes was at just 80 pitches, but manager Joe Girardi said he thought Hughes was up in the zone and not particularly sharp. He preferred left-hander Boone Logan, who promptly surrendered a long two-run homer to lefty-hitting first baseman Mitch Moreland that plopped onto the grassy berm beyond the center-field fence. Logan also allowed a hard double before exiting.
"That's Boonie's job, to come in and get Moreland out," Girardi said. "Unfortunately, he didn't do it tonight, but I'll throw him out there again."
The Yankees built their first lead with three runs in five innings off Alexi Ogando, scoring twice in the third inning on Austin Romine's RBI double and Ichiro Suzuki's run-scoring single -- career hit No. 2,700 in the Majors for Ichiro, giving him 3,978 between the big leagues and Japan.
New York had not enjoyed an extra-base hit in its last 24 innings heading into the third inning. Melky Mesa snapped that streak with a double, and Lillibridge collected his first Yankees RBI in the fourth with a groundout to knock Wells in with the third run.
"These guys never give up," Girardi said. "They keep grinding out at-bats."
Lillibridge has played with six teams in six big league seasons, and he still counts among his biggest moments the April 2011 night at Yankee Stadium when he made two great catches to rob Alex Rodriguez and Cano of hits, preserving a win for the White Sox.
Lillibridge laughed that his wife, Stephanie, keeps a New York newspaper clipping in their home to commemorate the night he stole a win from the Yankees. Lillibridge just might want to tuck away Wednesday's morning editions, telling the story of the night that he got one back.
"You come in here as a new guy, you want to just make the plays, do your job, not make too many waves and get yourself comfortable," Lillibridge said. "I was able to make up for it in a big win. I was just excited to help."
Bryan Hoch is a reporter for MLB.com. Follow him on Twitter @bryanhoch and read his MLBlog, Bombers Beat. This story was not subject to the approval of Major League Baseball or its clubs.