Riddle solved: Wild rally ends Astros' woes vs. A's
Riddle solved: Wild rally ends Astros' woes vs. A's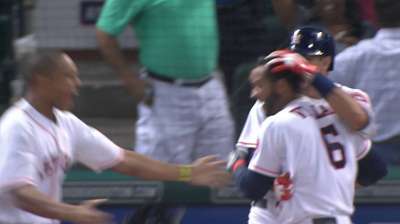 HOUSTON -- Astros shortstop Jonathan Villar was mobbed by his new teammates at home plate, each one eager to get a piece of the celebration. Manager Bo Porter bounced up and down, spun in the air and couldn't stop smiling in disbelief.
And what about rookie pitchers Jarred Cosart and Jose Cisnero?
"Me and Ciserno were in here, jumping around hugging each other like little kids," Cosart said.
In one of the most surprising, dumbfounding and glorious comebacks of the season, the young Astros stunned the A's by scoring three runs in the bottom of the ninth inning against previously untouchable closer Grant Balfour for a wild 5-4 walk-off win Tuesday night at Minute Maid Park.
All it took for the Astros to beat the A's for the first time in 11 tries this year was coming from behind to win for only the second time in 60 games when they trailed after eight innings, and doing it against Balfour -- who was 26-for-26 in save chances this year.
"Man, you don't expect them to end like that," Porter said. "Needless to say, a win is a win. You have to take it when you can get it."
Villar, who had three hits and helped the Astros turn four double plays, scored the winning run on a headfirst slide after racing all the way from second base on a throwing error by A's catcher Derek Norris, who blocked a pitch in the dirt and then tried to throw out a stumbling Jose Altuve caught between first and second base. The throw went into right field.
"Everybody in the dugout was like, 'No, 'Tuve, No!'" said Astros outfielder Justin Maxwell, who singled in the ninth on a comebacker to Balfour and ended up at second after a throwing error by the closer. "And then it turned into, 'Run!' That was kind of cool. It was definitely a great morale-booster for the team. Facing one of the best closers in the game in Balfour, he's got great stuff. It was nice to be able tie the game and win it in the ninth. Walk-offs are always fun."
Balfour suffered his first blown save since April 29, 2012, at Baltimore, breaking a streak of 44 successful save opportunities, which was a team record and the sixth-longest streak in Major League history. The Astros snapped a six-game losing streak.
"I feel like the whole inning could have been totally different," Balfour said. "I put myself in that situation. I knock down that [Maxwell] ball, I should field it and throw him out. It gets ruled a hit, and then the next thing you know I'm [up], 0-2, on the next guy and couldn't put him away. I kept bouncing my slider. It wasn't what I wanted it to be tonight. Fastball up and away, and he hits it out. That's it. That's the blown save right there."
Matt Dominguez launched a two-run home run off Balfour to score Maxwell and tie the game and send the crowd of 32,249 into a frenzy. Villar doubled one out later, and Altuve drew a walk before nearly running the Astros out of the inning on a pitch in the dirt.
"Once I saw the ball take off for first base, I knew at least Villar was going to make it to third at that juncture," Porter said. "[Norris] threw the ball low and the ball ends up in right field, and Villar just being a baseball player, came all the way home for the game-winning run."
If the display put on by Villar in his second Major League game wasn't enough to get the Astros excited about the future, then how about Cosart? The Houston-area product held the first-place A's to seven hits and two runs (one earned) in his second Major League start.
He wasn't quite as dominating as the eight innings of scoreless ball he tossed at Tampa Bay in his big league debut 10 days earlier, but it was even more impressive to Porter, who stuck with him for 115 pitches.
"There was never a moment in the game when you looked out on the mound and said, 'OK, I think he's losing control of the game,'" he said. "He looked like he was in control of the game the entire time, and that's why I stayed with him as long as I stayed with him."
Cosart became the third Astros starter to allow one earned run or fewer and pitch at least seven innings in each of his first two career Major League starts. And he did it with dozens of friends and family members watching from the stands.
"My stuff wasn't as good for me today early in the game," he said. "I was kind of out of sync and couldn't feel any part of my body in the first inning. There was a lot of pressure, no matter what anyone says, pitching in front of 30-something thousand. I feel like I know half of them. I had a big section here tonight and a lot of support, and it's always huge."
Brandon Moss cranked a two-run home run with two outs in the eighth inning off Ciserno to give the A's a 4-2 lead and put them on the path for yet another win over the Astros, who decided they'd had enough of being bullied by Oakland.
"It's a big win, because we hadn't beat these guys the whole year," Porter said. "It's one of those things you say to yourself, 'Sooner or later, we're going to have to beat these guys.' And for it to happen in the fashion it happened and down, 4-2, in the ninth and get three runs and come back and win, it's definitely something we can build off from a momentum standpoint."
Brian McTaggart is a reporter for MLB.com and writes an MLBlog, Tag's Lines. Follow @brianmctaggart on Twitter. This story was not subject to the approval of Major League Baseball or its clubs.