Mo thanks Rangers employees in meeting
Mo thanks Rangers employees in meeting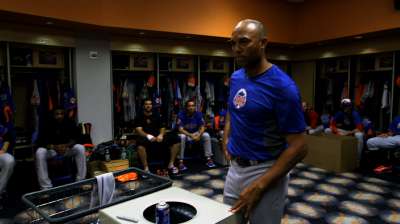 ARLINGTON -- Yankees closer Mariano Rivera, in the midst of his final season, took time to thank Rangers employees shortly before New York took batting practice on Tuesday. Rivera has planned to set up a meeting at every visiting ballpark to show his gratitude toward ballpark personnel.
"We would never have a chance to see you guys, and that's why I wanted to do this," Rivera told roughly 20 Rangers employees. "That was important to me, to make sure to thank those that work behind the scenes. No one sees them."
"I want to be remembered as a player that gave for others," Rivera said. "It's not that I'm better than anyone else; that's not true. I have been blessed and treat everybody the same because I wanted to be treated like that -- with respect."
The Rangers will honor Rivera with a special pregame ceremony on Thursday that will include Rangers closer Joe Nathan and John Wetteland, who won 1996 World Series MVP Award with the Yankees and is a member of the Rangers Hall of Fame.
Master Tesfatsion is an associate reporter for MLB.com. This story was not subject to the approval of Major League Baseball or its clubs.