Still tired from surgery, Betancourt returns to Coors
Still tired from surgery, Betancourt returns to Coors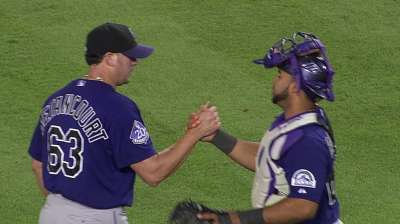 DENVER -- Much of closer Rafael Betancourt's excitement coming out of the All-Star break was based on the fact that the Rockies were finally healthy after dealing with first-half injuries to many key players, including himself.
But the expected run of good health ended before it started. Betancourt underwent an emergency appendectomy and landed on the 15-day disabled list Friday night before the Rockies' game against the Cubs, the first game after the break.
Still sore and tired, Betancourt returned to the Rockies' clubhouse Tuesday to visit with teammates and do some light stretching exercises.
"It's weird. I always say it's kind of hard to have everyone healthy because it's a long season," said Betancourt, who missed 25 games in June with a right groin strain. "The last time I was on the DL was in 2009, before I got traded here. You're always going through pains, but never something like this.
"It's fine. I'm happy to be here today and spend time with guys. But now I'm still sore. As much as I love baseball and love to work and play the game, right now my mind is like, I need to rest. I don't want to do anything right now."
Betancourt said he was thankful for his 10-year-old son, Rafael. The younger Rafael is often in uniform before games, throwing with his dad and helping out during batting practice. His son said he went to the trainers to have his wrists taped -- what youngster doesn't want to have his wrist taped to look like a big leaguer -- and made it a point to mention his dad had vomited a couple of times the previous night.
Trainers checked Betancourt and sent him to the team internist, who called for surgery immediately.
"Knowing me, I don't know if it's good or bad, but I probably would have gone out and taken normal BP," Betancourt said. "This is the first time having something like this during the season, and it's not fun. Especially for me, I like to be there, after missing almost three weeks with my groin.
"With the situation our team is in right now, I don't want to be missing a game, but it's something out of my hands. All I can do is rest, try to come back stronger."
Rockies head athletic trainer Keith Dugger said most of Betancourt's soreness is at the surgical portholes and not internal, and he'll feel better when his appetite returns in the next day or two. Dugger told Betancourt not to come to the park Wednesday, and if he's better Thursday, he can do light treadmill work or exercise under water.
Thomas Harding is a reporter for MLB.com. Read his blog, Hardball in the Rockies, and follow him on Twitter @harding_at_mlb. This story was not subject to the approval of Major League Baseball or its clubs.