Outfield defense critical to Royals' success
Outfield defense critical to Royals' success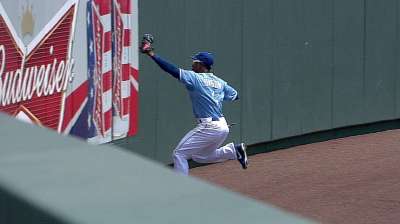 KANSAS CITY -- While the Royals search for consistency from their pitching and hitting, they have been able to count on their outfield defense to keep them in games.
The Royals are currently ranked third in the Majors with 24 outfield assists. Since 2011 they have 126, which is 37 more than any other team. The Royals also have turned two double plays and have just six outfield errors this season.
"Our arms are underrated out there," center fielder Jarrod Dyson said. "If we can get that outfield assist, we're going to get it. We're going be smart with the baseball and try to get a double play. That's a big key of what we do out there, we know where we are going to throw the baseball even before it's even hit to us."
Two-time Gold Glove winner Alex Gordon leads the way with eight assists, followed by Lorenzo Cain with seven, David Lough with four and Dyson with three. Dyson also has both double plays.
"They probably have as good of an outfield defensively as you'll see in the big leagues today," Detroit manager Jim Leyland said. "With Cain and Dyson and Gordon, that's as good of a defensive outfield as you're going to see. You ain't going to see any better. You couldn't get one to fall over the fence."
Dyson attributes their success to communication and speed.
"We've kind of got an idea of where guys like to hit the ball and how a pitcher likes to pitch," Dyson said. "In center field, I can zero in on that real well and see where our catcher is setting up on guys and if I move, the corner guy will automatically move when I give them the glove signal for what side of the field I'm playing on. Everybody out there holds their own."
Dick Kaegel is a reporter for MLB.com. Kathleen Gier is an associate reporter for MLB.com. This story was not subject to the approval of Major League Baseball or its clubs.